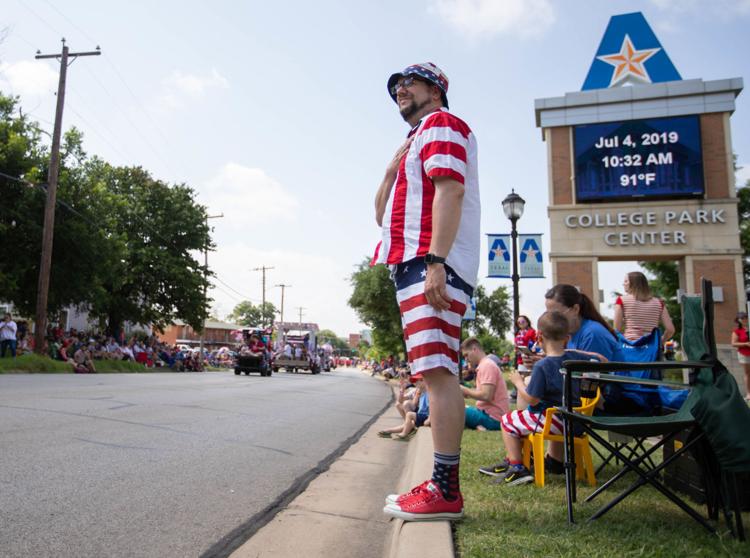 Arlington resident Kent Miller said he has attended the Arlington Fourth of July parade as long as he can remember.
During his childhood, Miller would ride his bicycle in the parade as a member of the Boy Scouts of America. As a father now, he walks the parade while his son rides with the Boy Scouts.
"We just come out here and be patriotic and support our local community and celebrate the nation," he said.
Miller said he changes his Fourth of July ensemble every year. This year, he sported a floppy Uncle Sam hat, red and blue shorts with stars and a star-shaped balloon tied to his lawn chair.
Miller was one of many dressed in celebration at the Thursday parade in downtown Arlington.
People clad in red, white and blue, and stars and stripes filled the streets surrounding the UTA campus while drums, sirens, cheers and laughter echoed off buildings.
Claudia Perkins, Arlington Fourth of July parade association board member, said Arlington's parade is the largest one in Texas, with up to 30,000 to 50,000 attendees.
Professional cosplayer Chelle Jacobs said it was her second time participating in the Arlington parade as part of her cosplay group.
Professional cosplayer Chelle Jacobs said this is her second time attending the Arlington parade. Her cosplay group will ride in the parade dressed as The Pirates of the Caribbean. pic.twitter.com/chnfZgCS7R

— Cecilia Lenzen (@CecilLenzen) July 4, 2019
"Everything is so big and fun," Jacobs said. "It's a celebration."
It's a popular event because everyone in the city is welcoming visitors, she said, and Arlington is conveniently located where anyone in the Metroplex can attend.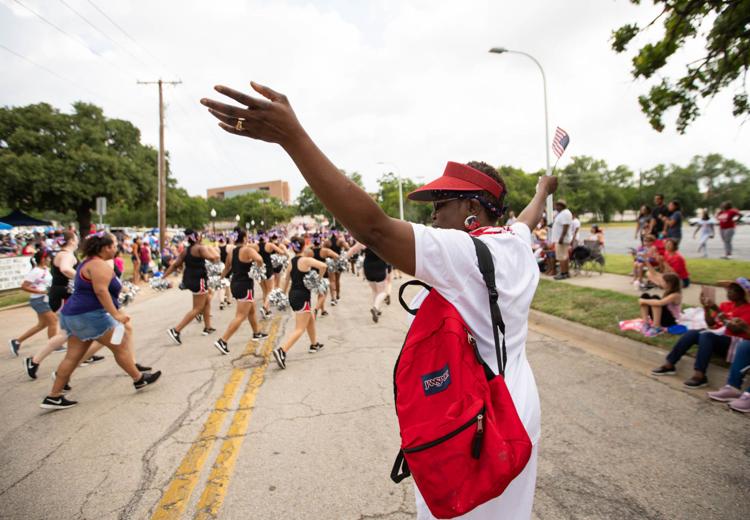 Elvis Presley imitator Brian Schober said he has attended the parade for the last seven years because of its size.
"People need the joy of seeing a grown man dressed as Elvis riding a little bike," Schober said.
Dressed in a black wig, sparkly sunglasses, and a red, white and gold pantsuit, Schober rode his motorcycle up and down the streets, performing tricks.
Electrical engineering sophomore Kolin Kilpatrick said this was his first time attending the Arlington parade.
"It's a lot of people, and it's actually a lot of really cool floats," he said. "A lot of them are from people, instead of, you know, when businesses come together and just kind of shamelessly advertise. So yeah, I think it's pretty neat."
Photos: Arlington Fourth of July Parade delights crowds
The Arlington Fourth of July Parade made its way around College Park Center and downtown Arlington on July 4. The parade was filled with high school marching bands, local organizations with floats, UTA students and Arlington city officials. 
The event was started in 1965 and has grown from a small collection of children on bicycles into the large event it is now. 
@CecilLenzen