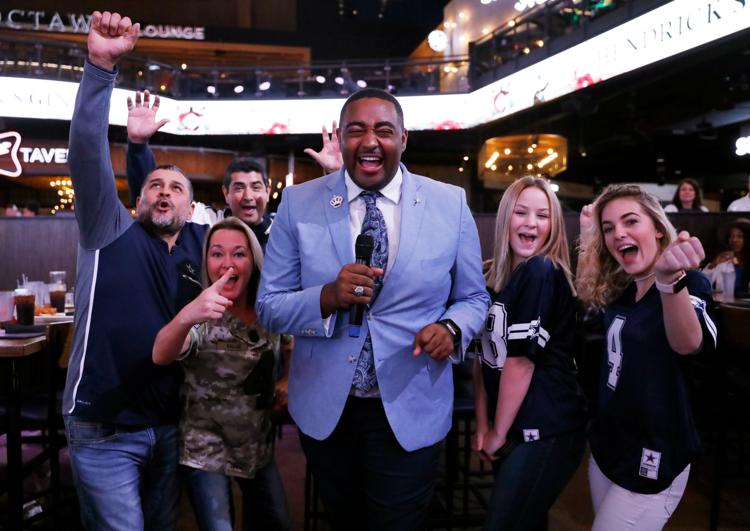 For as long as he can remember, Dillian Frelow has wanted to host and perform. Throughout his childhood, his family would hold a talent show every Christmas, and Frelow would host it. When he was five years old, his father built him a stage.
Now, the 2019 university studies alumnus, 2017 Mr. UTA and 2016 Homecoming king works at Texas Live as host, emcee and entertainer.
Frelow said Texas Live approached him via Instagram to recruit him for the position.
In July, he was offered the position of Texas Rangers and Dallas Cowboys pregame host, he said.
Jeremy Koeninger, Texas Live marketing manager, said one of the first things Texas Live was drawn to was Frelow's vibrant personality on social media. He was exactly what the venue was looking for.
"Being outgoing, being able to lead a crowd, not being afraid to jump up and have all eyes on him, were kind of the things we really enjoyed about [him]," Koeninger said.
Frelow doesn't think he's "too cool," Koeninger said. He's engaging and creative and willing to laugh at himself.
Texas Live wanted someone who didn't fit the cookie cutter image of an emcee or host. Frelow is unapologetic about who he is, and Texas Live "desperately needed" that attitude, Koeninger said.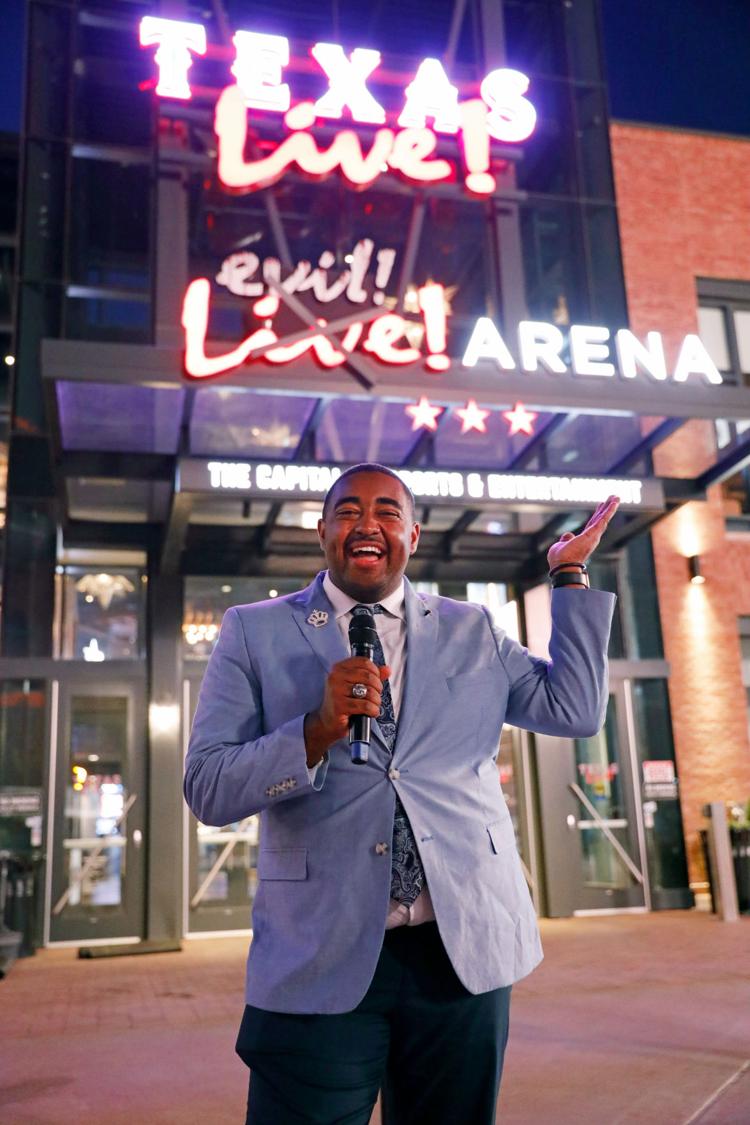 Once, while expressing his dream of hosting, Frelow was laughed at and told that he didn't have "the look" for the job. He'd get compared to stereotypical, cute, white, blonde hosts.
"I am the total opposite of that," Frelow said. "I'm black. I'm a big, fat person — I love that about myself."
Instead of trying to change who he was, Frelow said he embraced his skin color and size and resolved to prove that he can accomplish anything he puts his mind to.
Frelow's mother Karen Smith said Frelow has always been a performer, and she never doubted that he would achieve his goals.
"He always wanted to be on stage performing," she said. "Always an outgoing personality, one of the happy souls."
Smith taught Frelow to love himself and live confidently. His confidence helps him on the stage.
"If you give me a mic and a stage, oh, it's gonna be a show," Frelow said.
In high school, he would host school plays and programs. During gym, while everyone else was playing basketball, Frelow would sing and dance on the sidelines.
"Performing has just been my life, my whole entire life," he said.
Throughout his college career, he hosted a variety of events like the Maverick Cookout and Activity Fair Day and campus lip sync battles. He became known on campus for his confident, bubbly personality and never held back who he was.
"Set the table — I might stand on it and give you a dance move," he said.
Razeena Moosa, business graduate student and 2017 Ms. UTA, said she thought Frelow was "straight up crazy" when she first met him.
They were enrolled in the same communication class, which required several speeches and presentations throughout the course.
Moosa said Frelow used the opportunity to perform in front of his classmates.
"It would be like a two- to five-minute introduction speech about yourself, and it turned out to be a musical for him," she said.
During their days as Mr. and Ms. UTA, they'd arrive at their office at 8 a.m., and while Moosa would show up ready to keep her head down and work, Frelow would dance around the office singing a Beyoncé song.
"The thing with Dillian is he never wants to see anybody unhappy," Moosa said. "He's the type of person that will put a smile on your face whether you're having a bad day or you're just not feeling it."
Filling the roles of Homecoming king and Mr. UTA helped develop Frelow's style and propel him into a hosting career. He learned how to communicate with different audiences while remaining true to himself, Moosa said.
"If it's a serious crowd, he brings his Mr. UTA face on," she said. "And when it's like a fun, enjoying crowd, he brings his king crowd face."
Each person has their own set of skills and unique value to offer the world, and the easiest way to shine is to "SLAY," Frelow said. "SLAY" is a personal motto and acronym that Frelow created which stands for "strive, lead, appreciate yourself."
While at Texas Live and wherever else his reign takes him, the former Homecoming king said he hopes to host a good time for his guests.
"If I can make one person happy at least once a day, then I know I'm doing what I'm supposed to do while I'm here on this Earth," he said.
Life is too short to worry about others' perceptions, Frelow said. He wants to serve as a positive example to others, particularly those like him — a person of color who doesn't necessarily fit into the mold of what a host is "supposed" to be.
"Invest yourself into people who invest in you," he said. "Don't worry about the people who say that you can't do it — because you can."
@CecilLenzen