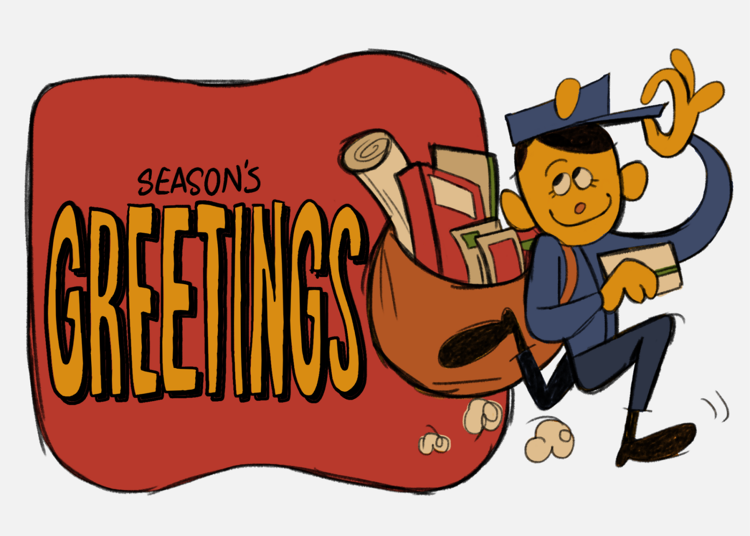 Despite the improvements in technology since letter writing was invented, Rohan Gange, industrial engineering graduate student, said he's actually seen an increase in letters sent since he started working for UTA's Mail Services office more than a year ago.
Gange used to work in the back with the packages, he said, but this semester he began working the counter where he takes and sends people's outgoing mail.
"Whenever people come and buy the stamps, they have to deal with me," he said. "I've seen a lot of people still send out the postcards, the envelopes. And it's surprising for me, that even today so many people do send out postcards. That's a great thing."
Gange's family lives in India, so he doesn't have anyone close to him to send letters to at the moment.
However, when he was young and attending school away from his parents, Gange wrote letters to them by hand every few months.
Being a student, he was allowed one phone call a week, which he had to pay for.
"Writing letters was the most convenient option, and you could write everything you want," he said.
Gange said it felt like a very touching thing to do and that his parents always kept his letters.
Working at the post office also allows Gange to observe the amusing ways others decorate their mail, he said.
"It's usually just parents or friends that are trying to cheer the student over here," he said. "When it was Halloween, there were like stickers with the Halloween stuff on it and all the drawings, and yeah, that was interesting to see."
According to the United States Postal Service website, the USPS was estimated to deliver more than 15 billion pieces of mail during the 2017 holiday season.
The holidays are known to temporarily revive the art of sending mail for many who don't do so throughout the year from Valentine's Day to Halloween and most commonly, Christmas.
Mechanical engineering junior Cole Johnson said he remembers his family keeping all their cards on display throughout December until they stopped receiving them. Then, when they packed up all the Christmas decorations, they'd keep the cards.
Sharing updates on their lives was why his family took the time to make and send the cards, Johnson said.
"We sent them to our neighbors and relatives, and we usually included a family picture just so they would have something to put up on their fridge, let them know how we're doing," he said.
Having to dress up and take pictures every year was far from his favorite activity, he said, but as an adult he sees the value in the practice and wants to continue it in the future.
"I think it's a good tradition. People don't get a whole lot of real mail these days," Johnson said. "To get something that somebody actually took the time to send them is kind of meaningful."
Civil engineering freshman Tommy Crisp said his family also displayed their Christmas card collection every year for most of his life, and that although it's not as well-practiced today, it's still a good way to get into the Christmas spirit.
"With technology taking over, I think the popularity will decline, but there's always gonna be people that still do it," Crisp said.
Sheila Farnham, a business mail entry tech at the East South Street post office in Arlington, said that although the popularity of letter writing has gone down, she's been a fan of sending and receiving mail her whole life.
ZIP Codes were invented in the '60s, and every family received a booklet with their zip code in it. Farnham said she remembers this because of the cartoon mascot Mr. ZIP featured on the cover of the booklets.
As soon as Farnham learned to write, her grandmother assigned her the task of addressing the letters, fearing nobody could read her own handwriting.
Armed with both the letters and their address book, it was a chore Farnham always looked forward to doing.
"As soon as I was old enough — 'I'll write it for you, I'll write it for you!'" she said.
Farnham said there's definitely been a decrease in the number of letters being sent since she started working at the post office almost 35 years ago, but she still sends things out herself and would encourage others to do the same.
"A lot of kids don't even know how to write a letter now, it's not something that they encourage them or teach them how to do in school anymore," she said.
Despite this, Farnham thinks the art of snail mail still holds value among generations both old and new.
"Of course I want people to keep writing letters because that's my job," she said. "It just makes you feel good when you know somebody has taken the time to sit down and write you that letter."
@Sam_Knowles00