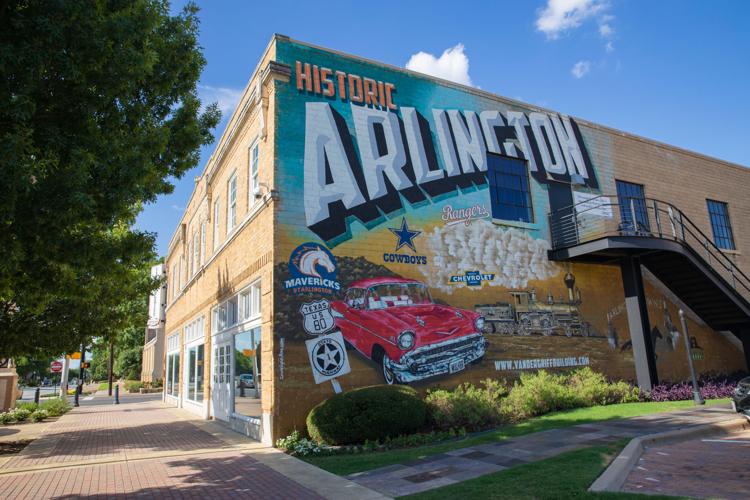 Cristobal Trujillo, history and economics senior, said he grew up watching Abram Street and other city constructions go on for what seemed like forever.
Better walkability and livable additions such as a grocery store are things Trujillo said he would like to see in downtown. But he largely advocates for a stronger tie between downtown and UTA.
"There's not really a strong sense of place [in downtown]," he said. "It's not really joined directly with UTA. It feels like it's very separate even though they're pretty much on the same block."
Maggie Campbell, Downtown Arlington Management Corporation president and CEO, said the disconnect is an issue her organization, the city of Arlington and UTA are aware of and plan to address with collaborative projects such as the recently announced student advisory committee, Mavericks of Downtown, or Mod Squad.
"It's been time to figure out how to integrate UTA and the downtown," Campbell said. "Physically figuring out what are the barriers and then from a huge standpoint what is it that our downtown is missing that would make it more attractive for students to play here or live here or stay here."
Downtown's makeover is long overdue, said Trujillo, and it might be too late for it to compare to other places like Bishop Arts in Dallas.
"It doesn't feel very catered to students," he said. "It feels more like they're trying to attract an older crowd."
The newly adopted downtown master plan includes strategies of interest to students and UTA, said Susan Schrock, city of Arlington communications coordinator, in an email. These strategies include creating a destination with a distinct identity; diverse housing types, mass activity, active streets, open spaces and a livable arts, culture and music scene.
Schrock said the city has already started addressing walkability in downtown with its Abram Street Rebuild Project. Street improvements in conjunction with private development will include sidewalks, crosswalks, landscaping and furnishing.
Gavin Mitchell, student body president and Mod Squad member, said he wants to make students aware of what downtown offers in an attempt to lessen the disconnect.
"It's a stigma that is unfortunately associated here at this school," Mitchell said. "It may have been right in the past, but now it's increasingly becoming wrong. The more businesses that open in downtown and the more things there are to do in Arlington, the more opportunities there are for the people."
Urban Union is one example of development in downtown that is bringing more entertainment options to Arlington. The space, located on Front Street, just opened Lone Star Axe Throwing and is expecting more businesses to open later this year.
Businesses such as Inclusion Coffee, White Rhino Coffee and Cane Rosso all have announced plans to open in the downtown area soon.
To help introduce students to downtown, Mitchell said he wants to create promotional flyers and events where students can learn about the area.
Advertising junior Addis Riddle said he remembers asking what there is to do in Arlington during his transfer orientation and receiving the same answer from everyone: nothing.
Since then, Riddle joined The Football Team: A Creative Collective, where he has helped cultivate the music and arts scene in Arlington by hosting events at local venues such as Truth Vinyl and the Arlington Museum of Art.
As the downtown district grows, so do the options for students looking for something to do closer to campus.
"If the grass is greener on the other side, just water your lawn," Riddle said. "[Arlington] is fertile for a lot of things, and it's just not being taken care of."
@edmedeles