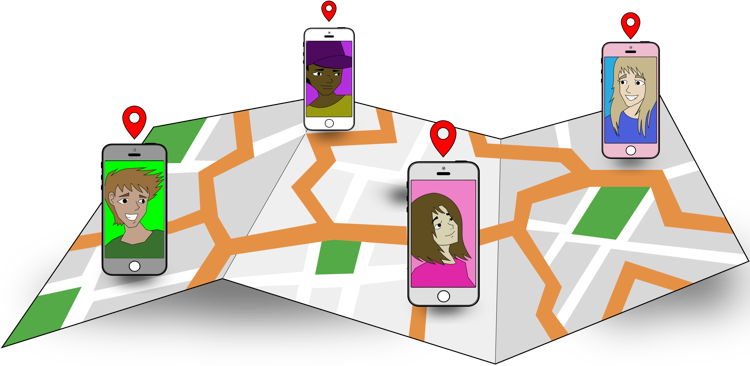 Kinesiology senior Jordan Austin said once she realized how prevalent sex trafficking was, she began sharing her location with her two best friends.
They share their location through iPhone's Find My Friends app as a safety precaution, Austin said.
"We kind of just started taking more awareness," she said. "In case anything were to ever happen, we know where each of us last were."
Sharing your location via Find My Friends or social media apps like Snapchat has become an increasingly popular safety measure among college students.
UTA Police Capt. Mike McCord said there are situations when sharing location is beneficial, but there are also situations when it's not advisable.
"Evaluate the situation and try to communicate with close friends or family," McCord said. "Be cautious in who and what information you share."
Sharing location can be beneficial when driving from school or work to let a loved one know your location, he said. However, it's better not to broadcast your location to everyone on social media because that makes it easy for stalkers or criminals to take advantage of a possibly unattended home.
"Any time you look at sharing your location, I would obviously only share that information with some close friend or loved one," McCord said.
Austin said she used to share her location on Snapchat's Snap Map but realized the option is too public. She'd rather keep her location personal and private.
"I found that kind of weird because it made it available to everybody and the exact pinpoint of where I was," she said. "I don't know who's on my Snap and who they can share that with."
Communication junior Kabuya Mukendi said he prefers not to show his location because he doesn't know who will see it.
"That's just like privacy," Mukendi said. "I wouldn't want someone to just pop up on me out of nowhere."
Although he doesn't post his specific location, he said he frequently uses Geofilters, a location-based photo filters on Snapchat.
That way he can share his general location without anyone knowing exactly where he is, he said. If he needs to share his location with a friend or family member, Mukendi said he will send them a text message.
Advertising senior Daisy Orozco said she began sharing her location with all her close friends and cousins about two years ago.
"It's important for at least one person, whether it be a friend, family member, to know where I'm at," Orozco said.
Even when a cell phone dies, it'll still show your location, she said, so it's a smart way to stay safe. Sharing location is especially important for college students who like to go to new places and stay out late, Orozco said.
"It's never not [on]," she said. "No matter where I am, my closest friends and family, they know where I am."
@CecilLenzen