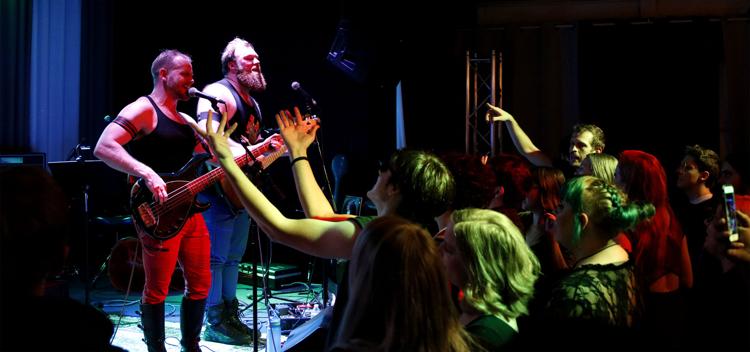 Jonathan Holder, Svenny Baby! bassist and vocalist, wore half of a pirate costume to his therapy session Saturday morning because he knew he'd be swamped the day of their album release party.
While at therapy, someone recognized him as a member of Svenny Baby!. The person promised he wouldn't tell anyone that he saw Holder there. But at the release party, Holder told the crowd that he'll tell anyone he goes to therapy. He's not ashamed, he said.
Svenny Baby! released their latest album, "Voyager", on Friday night on Spotify and held their release party on Saturday night. The night included an opening performance by Dallas band Lovely and an appearance by a live mini-orchestra. The alt-pop band, made up entirely of UTA alumnus, delves into topics about mental health in the 15-track album.
But much like Holder at a therapy session with half a pirate costume on, they like to approach mental health with fun and whimsy, said Victor Toruno, keyboardist and vocalist for the band.
The crowd, whose faces changed between red and blue because of the lights, responded to the album by dancing to nearly every song, especially to the song "Imposter Monster," where Toruno details his "imposter syndrome".
Plenty of moves were busted Saturday night. Ruby Johnson, a member of the mini-orchestra during the performance said she pulled out her "around the world dance," and Jonathan Masters, drummer for Lovely, said he pulled out "a cabbage patch but with your knees."
Toruno said the namesake "Voyager" is about discovering yourself and pioneering new things.
"This time we decide to take an introspective look about growing up in your twenties and a self-discovery kind of thing" Toruno said.
The band also used the "Voyager" approach with the venue, which was a small nameless black building across from Tipsy Oak.
"This is a new place that nobody's been to," he said. "They're explore too. So it's, kind of, like, a meta thing we were trying to create."
Toruno also wanted to be different by incorporating skits and  a mini-orchestra in the album and for their live performance.
John Hunt played clarinet for the mini-orchestra. He said that although he had played for his high school band, he had never done so with a rock band.
Another new thing they tried: a cover charge of a high-five.
UTA alumnus Dakota Krueger  asked everyone who entered for a cover charge of a high-five, with a police uniform on and a Shiner beer in hand.
He said that most were caught off-guard but the experience was uplifting.
Toruno, a fourth and fifth grade teacher, does this with his students as they enter his classroom. He said a high-five can make someone comfortable in an environment.
Svenny Baby! didn't only voyage into the unknown, they also voyaged back to the past. The band had past CDs on sale for $10 that night.
Toruno acknowledge that CDs may seem absurd and outdated, but wanted to give fans something physical to hold onto.
@arianamariel_