Carrying a large red bag with a skateboard sticking out, Dennis Macias, accounting and business sophomore, labeled several gifts he bought for his angel next to heaps of red and black gift bags at the Follett Student Leadership Center.
UTA Volunteers has once again partnered with The Salvation Army in their annual Angel Tree event. This year, the organization adopted a record 300 angels to disperse to the UTA community. Of those, about 270 angels were officially adopted through individuals and organizations on campus.
Macias' angel, a 12-year-old boy, had requested a skateboard for Christmas and needed a coat for the cold weather. Macias bought both, as well as some clothes and other items.
"I know what it feels like to not get gifts," he said. "It doesn't feel good."
Angel Tree is something Macias said he would have appreciated when he was younger, so he made sure to give his angel as much as he could, even getting help from family.
"I told my mom, you know, I was gonna go shopping. So, she went with me because she said, like, I didn't know how to shop," he said with a smile.
Many other people also had the opportunity to adopt a regular angel or a forgotten angel.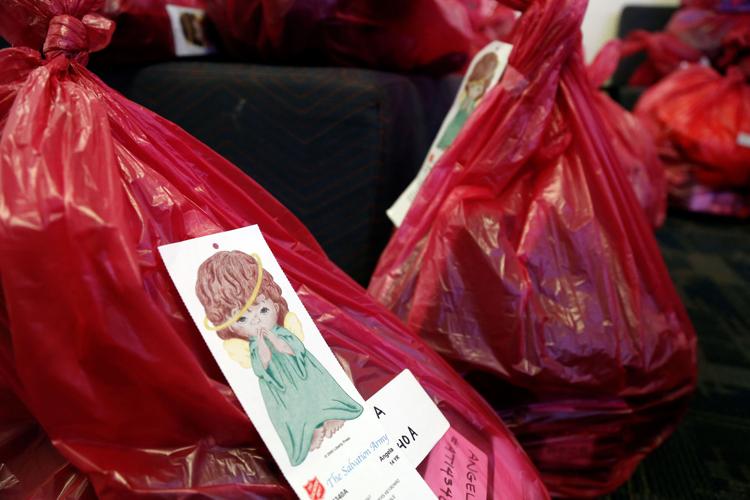 A regular angel is a real person with personalized interests, whereas a forgotten angel is an individual within a specific age group, said Tritima Achigbu, UTA Volunteers Youth and Education director.
A lot of work and planning goes into the event each year, but Achigbu said seeing people adopt angels and knowing that UTA Volunteers is making an impact makes it all worth it.
Achigbu said the event helps spread awareness about income insecurity, especially surrounding teens and senior citizens, because most people tend to adopt children.
"It's a really great way to spread Christmas cheer and to be able to think about someone other than yourself," she said. "It's one thing to know about an issue, it's another thing to actually be able to do something."
Financial security means having enough money to support one's lifestyle as well as work toward one's financial goals. Common obstacles to achieving financial security include incurring debt, not having a savings account and not being able to put aside emergency money.
In 2018, a quarter of adults had a family income of less than $25,000, and 37% had less than $40,000, according to a 2019 Federal Reserve report on the economic well-being of U.S. households in 2018. And according to a Financial Health Network 2019 trends report, only 29% of Americans are financially healthy.
After times of hardship, waking up on Christmas morning to the promise of a gift under the tree is something The Salvation Army has strived to provide in the North Texas area since 1984.
The Salvation Army's Angel Tree program is one of its highest profile Christmas efforts, according to its website. It was created by Majors Charles and Shirley White in 1979. The couple worked at a shopping mall in Lynchburg, Virginia, to provide clothing and toys for children during the Christmas season.
The Whites would take the local children's wishes and write them on Hallmark greeting cards featuring pictures of angels. They would then place the cards on a Christmas tree at the mall, allowing shoppers to select the wish they wanted to grant. Hence, the name Angel Tree was born.
More than 700 children received gifts that year thanks to the Whites' efforts, according to The Salvation Army website.
Now the program has manifested across the states, from local shopping malls to churches and on-site organizations.
When nursing freshman Jamie Chen's parents came to visit her recently, they spent their time shopping for someone in need.
In the few months before Christmas she reached out to UTA Volunteers and asked for the angels most in need, adopting a senior citizen forgotten angel. For her angel, she decided to buy them a coat and a Bible.
"I feel like senior citizens are, kind of like, maybe the most forgotten of the age group because a lot of people want to give to the little kids 'cause they're very cute," she said. "But the senior citizens obviously need things too."
For Chen, the holidays are all about spending time with the people you love. Along with good food and good spirits, that's what it's all about.
Chen said she intends to keep participating in the event, and would like to try to adopt a regular angel next year to give them something more personalized, even though giving back to anyone is just as meaningful.
As someone who used to work at a retirement home, adopting an elderly angel was something that was personal for her.
"It's not like I need that instant gratification of seeing someone be like, 'Thank you so much,'" she said. "Just knowing that someone is gonna wear the coat that I gave them or read the Bible that I gave them is just enough."
Maitri Patel, UTA Volunteers copresident, has felt the same way.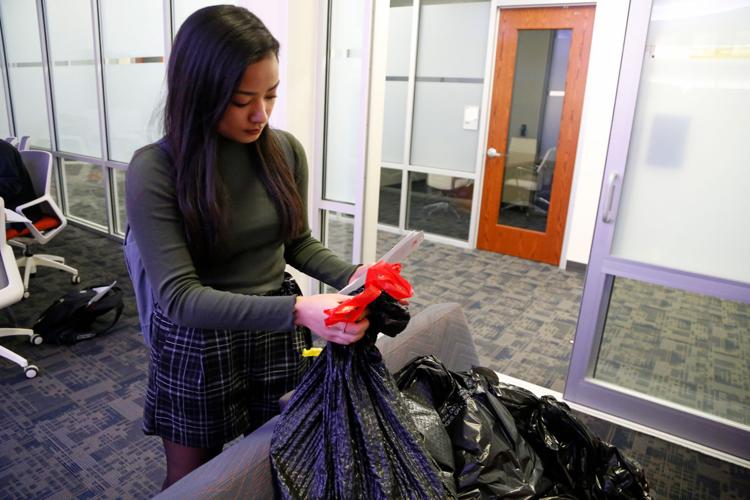 Even though adoptees never get to see their angel's reaction to the good deed, Patel said just knowing they're making a difference in someone's holiday season is the greatest gift.
"The little that we do has much more of an impact to the actual person that we're giving all of this to," she said.
The marketing and management senior said she understands what it feels like to not be able to celebrate a holiday like how it's shown on TV, with bright lights and "rainbows and unicorns." Patel has participated in the Angel Tree program twice, and although it gives her a sense of self-satisfaction, she said it's more about bettering other people's lives.
Her previous angel was a young boy, so she bought him a toy car, she said.
For Patel, even though it wasn't a gift she was buying for herself or even a close friend, the experience of sifting through the colorful toy section brought her a sense of satisfaction and nostalgia.
Angel Tree provides a way to raise awareness about an issue that's bigger than the individual, Patel said. It's about connecting community and understanding those who are less fortunate during a traditionally happy time of year.
"Kids are cute," she said. "Why would you not adopt an angel?"
@amnda_pdilla