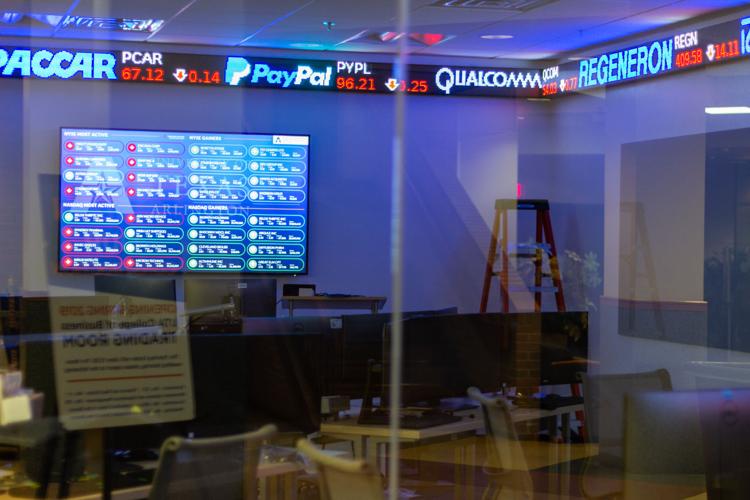 Originally planned to open before the spring semester and later postponed until mid-February, the Trading Center is expected to be fully functional on March 19 in the Business Building.
Jairo Omaña-Peñaranda, Office of Information and Instructional Resources director for the college, said in an email that order issues and installation of the ticker tape caused the second delay. A ticker tape is a device that shows stock symbols and numbers to provide information about trades.
However, the ticker tape is up and functional, and the college is working on the installment of the Bloomberg Terminals, which are computer software systems.
The college is relying on six different companies for hardware installations.
Some of the pieces are interconnected, he said. The college had to coordinate with vendors so that when one piece is installed the other one follows.
The hardware installments are almost complete, he said. There is a wire that needs replacing and the vendor will come on Mar. 18 to replace it.
Thomas Thompson, finance clinical associate professor, said in an email the Seminar in Finance course, which is paired with the trading room, is on schedule.
He said the students are looking forward to the Bloomberg training course after the break.
Omaña-Peñaranda said a Bloomberg training session was conducted by an out-of-town Bloomberg representative on Feb. 13. Three student assistants were trained to use the Bloomberg Terminals so they can help the students operate them.
Faculty and other students also attended the session, he said. More sessions, which might be open to all students, will be conducted in the near future.
Harry Dombroski, College of Business dean, said in an email the equipment, level of sequencing, and the customizations required for the space caused the project to be complex.
"Everyone on this project has worked extremely hard to make the Trading [Room] operational as soon as possible," Dombroski said.
@Angie_Perez99