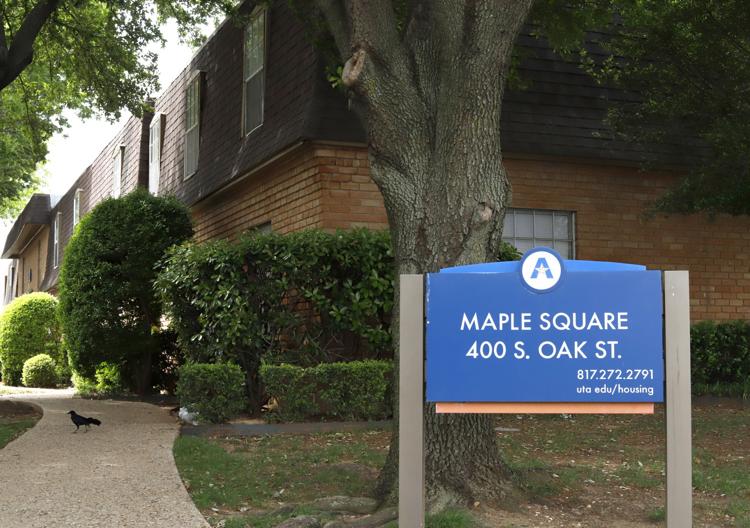 Political science freshman Anshu Shrestha moved into the Maple Square apartments because of its convenient location on campus, but to her surprise, the apartment was squeaky and paint was chipping away.
In accordance with both the 2014 Housing Master Plan and the Campus Master Plan, the university will demolish the Maple Square and Garden Club apartments after existing leases are completed in July, said John Hall, vice president for administration and campus operations, in an email.
Shrestha received an email last semester stating Maple Square apartments residents would have to relocate before July 31. Residents had to meet certain requirements to be given priority wait list status for other UTA housing locations, according to the email.
The university also gave residents enough time to move off campus as well, Shrestha said.
Hall said the apartments were built in 1964, and they have exceeded their useful life.
The project team, called Brailsford & Dunlavey, conducted the housing master plan in 2013 after UTA reached out to them to find out risks for housing facilities on campus.
"Given the conditions of the vintage apartments on campus, UTA should apply a phased removal strategy that corresponds with the physical conditions of each facility and the objectives of the campus master plan," the team recommended in the housing plan.
Hall said the demolition will also lead to the development of the Oak Street Mews, an extension of the pedestrian mall from West First Street to UTA Boulevard.
A green space along campus edge, a parking expansion, an eventual plaza and a grander entrance to the University Center's north entry will also be placed, he said.
"We hope to begin the UC North Entry expansion in August," he said. "The plaza is a bid alternate right now and we hope to have sufficient funding to award that scope as well but it is not currently in the base bid."
He said the campus will be more attractive for students.
Green spaces provide a psychological, emotional and physical service to the community, said Diane Jones Allen, landscape architecture program director.
Students need a place to relax and get away, she said, whether that be to play soccer or to just lay down. Campuses should have as many open spaces as possible.
"It's wonderful that the university is trying to increase the amount of green space," she said. "It means they're concerned with the health, both physical and mental, of the faculty, students and staff on the campus."
@Angie_Perez99