A proposed house bill could affect thousands of undocumented students in the state, including Deferred Action for Childhood Arrivals program recipients, if passed.
Rep. Kyle Biedermann, R-Texas, introduced House Bill 413 into the 86th legislative session, which formally began earlier this year.
HB 413 calls for undocumented students, like those under the DACA program, to pay out-of-state tuition at higher education institutions.
DACA was implemented during former President Barack Obama's administration and allows undocumented immigrants brought to the country as children to remain in the U.S. It offers temporary and renewable protection from deportation and permits them to work legally.
Biedermann stated in a November 2018 press release that it's time to end in-state tuition qualification for undocumented immigrants.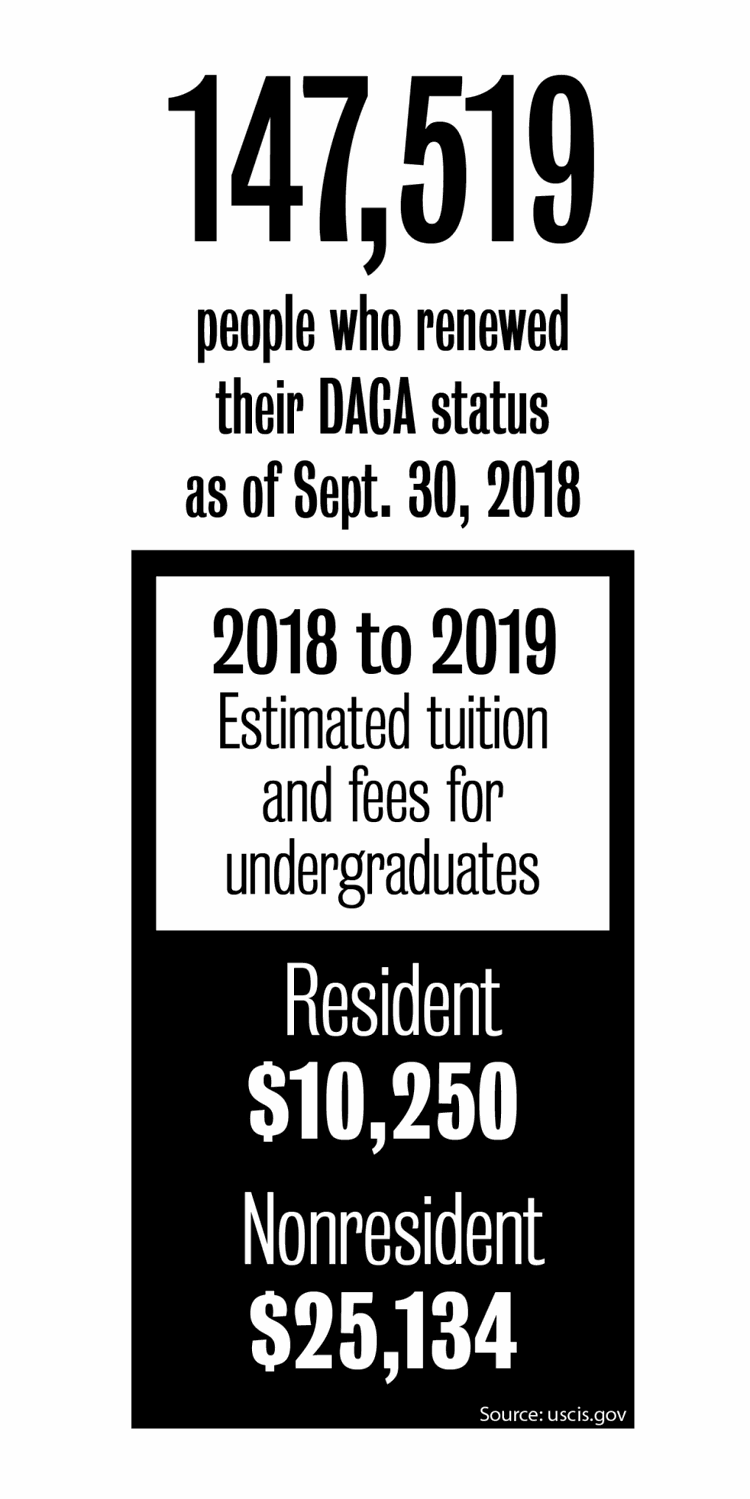 "I am proud to fight for the taxpayer. Magnet policies that benefit illegal immigrants hurt citizens and those who immigrated here legally," he stated. "We must remove these magnets and protect our border."
Currently in place is HB 1403, also known as the DREAM Act, which allows people who are not permanent residents or citizens to be classified as residents for higher education purposes, qualifying them for in-state tuition.
HB 413 would reverse the DREAM Act and those affected would pay the increased out-of-state tuition rates.
"It is time to restore respect for our immigration laws and protect our constituents," Biedermann stated in the press release.
History assistant professor Cristina Salinas said a bill like this one could affect the university's enrollment and diversity token.
According to U.S. Citizenship and Immigration Services, as of Aug. 31 the Metroplex has the highest concentration of DACA recipients in Texas at about 37,810 people.
UTA is tied for fifth most diverse university in the country, according to U.S. News and World Report.
The university is designated as a Hispanic-serving institution, which makes it eligible for additional federal funding. To receive the designation, an institution must have at least 25 percent of its total full-time undergraduate enrollment made up of Hispanic students.
Salinas said HB 413 is anti-immigrant and shows the change in sentiment among Texas Republican lawmakers regarding immigrants.
Architecture senior Maria Huerta, a DACA recipient, said if the bill is passed it would be a setback. The state would lose people who are contributing to the community without receiving the benefits citizens do.
Huerta added DACA students would lose incentive to stay in Texas, because they can move to another state since they would have to pay out-of-state tuition.
The bill would limit students' potential, she said. They won't want to pursue a higher education because this bill would hinder them.
"Dreamers" and undocumented students are not eligible for federal grants and loans.
Rep. Erin Zweiner, D-Texas, said in an email she's disappointed other Texas Legislature members are once again levying attacks at the Texan immigrant population.
"Dreamers in particular are American in every way except for a piece of paper, and they deserve the same access to a quality education that all Texans enjoy," she said.
Brent Boyea, political science associate professor, said Republicans in Texas historically have had a good relationship with the Latino community.
Immigration has become a hot button issue with the election of President Donald Trump and is a motivating device for Republicans, he said.
It's a divide between conservatives who want law and order and those who want to be charitable, Boyea said. That's the moral argument.
There is also a political argument.
The Republicans who support this bill feel that this is something their base cares about, Boyea said.
The Democrats who are against the bill might believe this isn't about border security, but about changing the Texas DREAM Act some Republicans don't agree with.
Huerta said she wants to believe people have good intentions, but feels that in the past year, the government used DACA as a bargaining chip.
Most recently, President Donald Trump offered a three-year protection for DACA students in exchange for the $5.7 billion needed to build a wall along the U.S.-Mexico border.
"It's really unfair," Huerta said. "There's no certainty for what I can plan for my future."
@itsbrian_10 @NardaLPerez