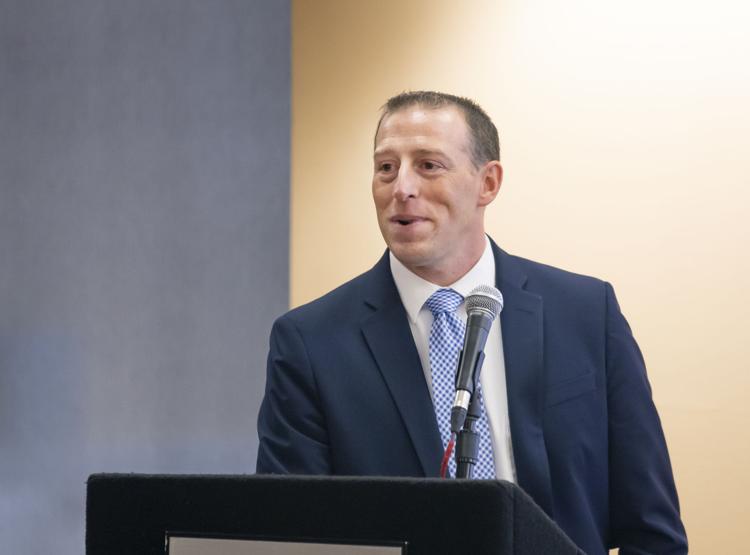 The Division of Student Affairs held the second of four scheduled on-campus candidate forums in its search for a new assistant vice president on Thursday.
The position opened after Andre Fortune, former assistant vice president, left the university to take a position at the University of South Carolina Upstate as vice chancellor for Student Affairs in mid-July.
Candidate David Duvall currently serves as the New Maverick Orientation director.
The assistant vice president position oversees New Maverick Orientation, Multicultural Affairs, the Parent and Family Center, Student Publications and Veteran Services, according to the Student Affairs organizational chart.
Duvall said he got his start at the University of Tennessee where he became a student orientation leader while getting his bachelor's degree.
It was this experience, Duvall said, that made him fall in love with working in higher education.
During his presentation, Duvall spoke about what each division of Student Affairs can do to promote transition and retention.
Duvall listed sense of belonging, financial issues, mental health and competing priorities as the challenges students face most on campus.
"We need to be thinking about these challenges because these are the things that pull students away from the engagement opportunities that we provide that help them be successful on this campus," Duvall said.
Jonathan Johnson, Student Affairs assistant vice president, said the health and wellness of students is a tremendous component in regards to student success.
"We want our students to be actively involved in their health and how [they can] be engaged on campus, and the best way is through their everyday activities," Johnson said.
Duvall said data collected by departments across campus could be used to better support students.
At the point of orientation, Duvall said students are asked what they are most excited about getting involved in on campus and what their biggest concerns are.
"What if during the course of that fall semester you had that data in your hands to be able to support the students that may be walking into your doors or are a part of your programs?" he said.
Kelly O'Keefe, New Maverick Orientation assistant director, said she has worked with Duvall in different capacities, first as an intern and now as assistant director.
"Through both of those positions, he spoke true to how he invests in his staff's professional development, whether that was helping me pick what professional association to join as an intern and what to invest my time and financial abilities into," O'Keefe said.
The next candidate forum is scheduled for 2 p.m. Monday in the University Center Carlisle Suite.
@PeytonNorth