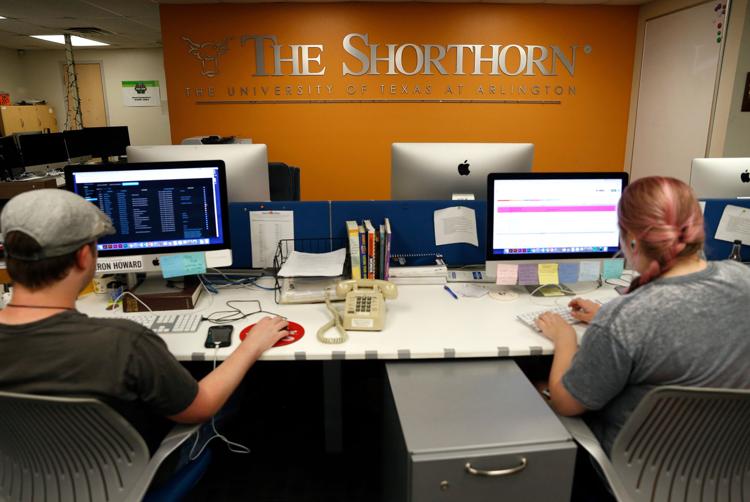 The Shorthorn newsroom is hiring a variety of reporting, photography, copy editing, sales and digital positions for the fall semester.
We're dedicated to covering news, life and entertainment and sports at UTA. Every position is paid and is provided with weekly training with expert speakers.
Each full semester, the newsroom hires about 50 students from a variety of majors. Experience is not required to apply, but any work samples are welcome.
A variety of scholarships are awarded exclusively to Shorthorn employees every spring and fall. More than $6,000 in scholarships were awarded last semester.
Ideal candidates should have at least 20 hours to dedicate to the position a week, have an interest in media or journalism and be willing to learn.
Shorthorn alumni have gone on to work at a variety of industries and publications, including The Texas Tribune, The Dallas Morning News, The Washington Post, the Los Angeles Times, the Associated Press and the Fort Worth Star-Telegram — as well as dozens of others.
How to apply
Please submit your application as soon as possible using our online form. Editors are currently reviewing applications for the fall semester. Portfolios of past work are appreciated but not necessarily required. Email any questions to editor.shorthorn@uta.edu.
Community Voices program
The Shorthorn also has a volunteer columnist program to provide students and community members with a platform to share their experiences and perspectives. Each columnist writes at least two columns a semester, works with the opinion editor and is provided with free training. Apply using our online form.
About The Shorthorn
The Shorthorn is currently celebrating its 100th year and is UTA's longest continuing tradition. It has been student-run from the beginning and all editorial control remains in the hands of the students from the time the story is pitched until it's published. During the fall and spring, The Shorthorn publishes daily online and weekly in print, and sends out a newsletter each day Monday through Friday.
@reeseoxner