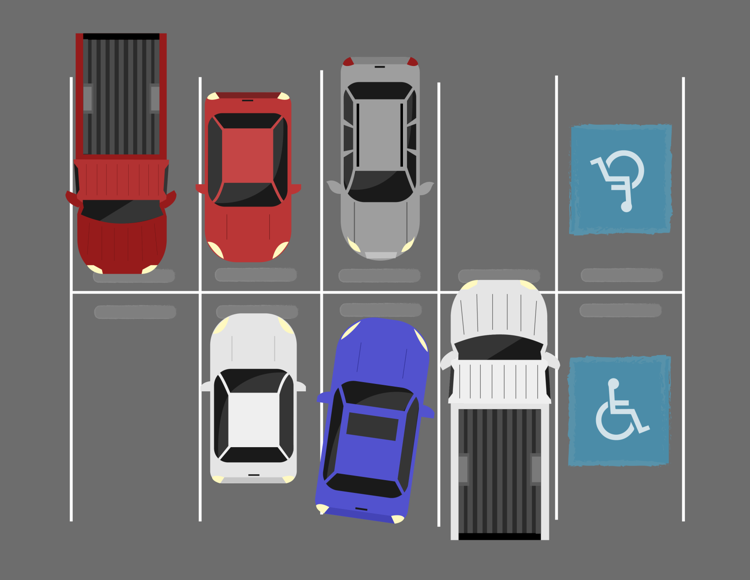 Transitioning to a university can be hard for some students, from adjusting to the larger campus and harder workload to learning where to park.
UTA has various parking lots and garages around campus as well as different parking permits for students to choose from.
Software engineering sophomore Devasri Warrier said students should leave 10 minutes earlier than they would need to get to class on time so they can find a good parking spot.
Warrier parks in Lot 49, across from the Science and Engineering Innovation and Research Building, she said. She parks there because it's the closest lot to her engineering classes.
"There's nowhere else I would ever park," she said. "It doesn't make sense."
Warrier looked at a campus map when she started at UTA, but she didn't understand it, so she made sure to get on campus early. After trying out different lots, she discovered Lot 49 was the perfect one for her.
However, it hasn't always gone smoothly for Warrier.
One semester she thought she could get away with not purchasing a parking permit. She said the increased price angered her, and she tried to park without it.
Three citations later, she bought a permit.
"I thought I could get away with it," Warrier said, jokingly.
Public health junior Bilal Chaudry parks in Lot 49 as well. He said it's the first lot he parked in when he started at UTA, and he hasn't changed lots since.
"It's like all I know, man," Chaudry said.
Chaudry said one of his favorite things about parking in the lot is the view.
He said when crossing the bridge he can see the SEIR Building and the small lake running beneath it. Early in the morning when walking to class he can see the sun shine off the building and a great view of the campus.
"I don't care if I gotta walk a few extra minutes," Chaudry said. "I like the view."
Journalism junior Ryan Keithley said before she started classes at UTA, she and her mom explored different lots around campus.
They wanted to find what lots she could and could not park in with the permit she had. Now she parks in the West Campus Parking Garage and Lot 49.
She said her morning classes are in the Fine Arts Building, so the garage works best for her. However, for her math class she likes to switch over and park in Lot 49 since it's closer than walking back and forth around campus.
"It's just a routine," Keithley said.
A plus side to parking in the West Campus Parking Garage is its proximity to The Commons, Keithley said.
The Commons has great study spots, and having a Starbucks in the building is great too, she said. The area is less crowded and a lot more relaxed than the Central Library.
Keithley said the Central Library can sometimes be overcrowded and kind of hard to navigate. This is why she prefers The Commons and the chill vibe it provides, she said.
"They have food, coffee and really nice studying areas," Keithley said.
@bjgarcia27