Gov. Greg Abbott praised Arlington's vaccine distribution and said the process is being replicated throughout the state during his visit to the city's mass COVID-19 vaccination site on Monday.
Abbott met with Arlington Mayor Jeff Williams, Tarrant County Judge Glen Whitley and other state and local officials late Monday morning at the Esports Stadium Arlington & Expo Center, where the city has administered thousands of COVID-19 vaccinations over the past month.
Abbott toured the site and commended the collaboration of county and city officials, who set up a process he said residents were receiving positively.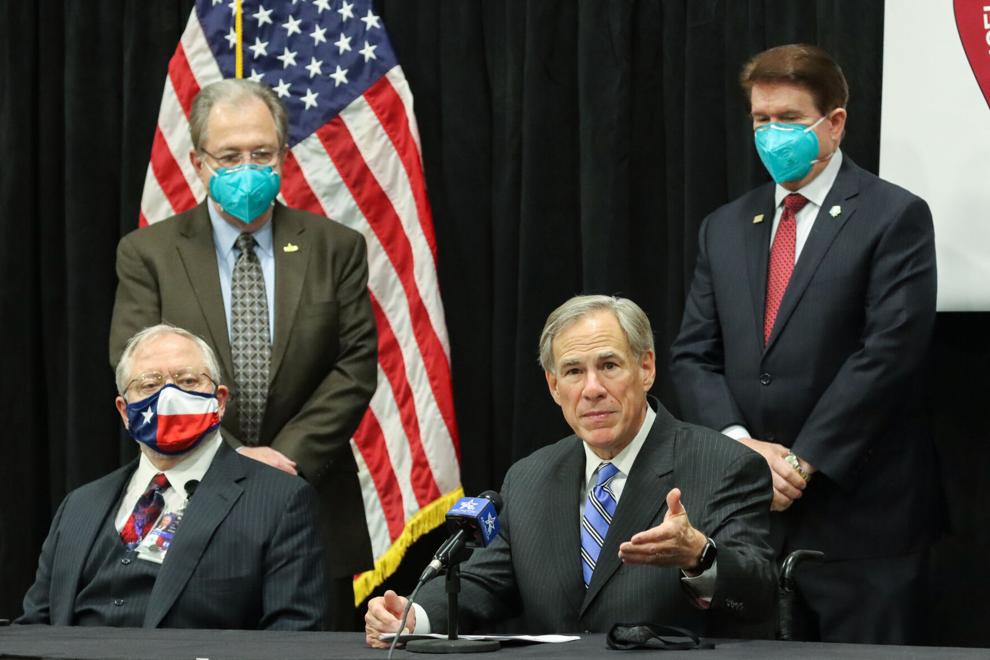 "[Residents] said they have never seen an operation run so effectively, so smoothly, so swiftly and so easily," Abbott said. "I want to applaud everybody, Arlington and Tarrant County, for everything they did to streamline this process."
The governor visited the site in the midst of an accelerating vaccination effort across the state and a surge in COVID-19 cases, hospitalizations and deaths.
In Tarrant County, about 83% of the county's hospital beds and 92% of adult ICU beds were occupied as of Thursday. The county has averaged 2,925 new cases a day and just under 30 deaths a day for the past week.  
In late December, the city of Arlington began distributing vaccinations to residents under Phase 1A, which includes hospital and long-term care staff, EMS, pharmaceutical staff and more.  
The state soon opened up the criteria and now also allows people who fall under the Phase 1B category, people at least 65 years of age and adults with a chronic medical condition, to register and receive the vaccine.  
Whitley said Abbott's decision to begin vaccine distribution for residents that fall under 1B significantly increased the volume of residents able to be vaccinated.
"We knew immediately that our [Tarrant County] Resource Connection was not going to be able to handle that by itself," he said. "Arlington, just as they always have, stepped up, and this is what you see here today."
Whitley said the Arlington vaccine site has been vaccinating at least 2,000 people daily.
As of Monday, the state has shipped 1,580,400 doses, and 802,507 have already been administered, with 83,538 of those being second doses, Abbott said.
He said the state has also provided 487,500 doses to CVS and Walgreens pharmacies to give to nursing and long-term care centers. As of Sunday, 75,312 of those doses have been administered.
Since distribution efforts began, the state of Texas has provided a total of 2,067,900 doses, and 877,815 Texans have received doses.  
Abbott said administered vaccines will increase by about 50,000 to 75,000 daily, and the state is slated to receive more vaccines weekly.
State health officials announced Sunday that 28 vaccination hubs across the state will receive 158,825 vaccine doses in an effort to streamline large scale vaccinations for residents under Phase 1A and 1B.   
In Dallas County, Dallas County Health and Human Services will receive 6,000 doses, Parkland Hospital will receive 6,825, and UT Southwestern Medical Center will receive 10,000.
In Tarrant County, Tarrant County Public Health will receive 9,000 doses and Texas Health Resources will receive 10,050.  
Arlington Mayor Jeff Williams said the state, county and local collaboration has made vaccination distribution successful in the city, and he urged continued collaboration to make the administering process as easy as possible for vulnerable residents. 
"Our challenge here locally is to make sure that when the state sends those to us, we immediately get those shots in the arms [of residents]," he said. "There is nothing more inspiring [than] to see our citizens get vaccinated and the appreciation they have."  
@ByDavidSilvaR