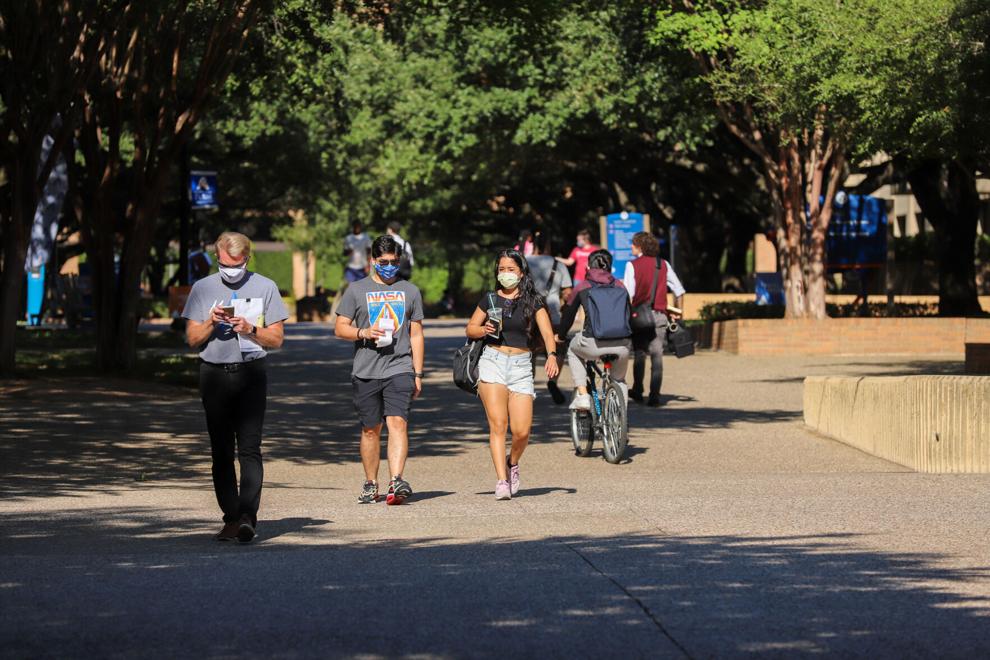 College students across the country are experiencing a new challenge this year, navigating their lives and academic careers during a pandemic.
A day in the life of a UTA student could mean sitting at the kitchen table for virtual classes or stepping foot on campus and having chairs mark social distancing between classmates.
For those students with in-person classes, there's still much uncertainty on how reopening campus will affect the spread of COVID-19, but there are a few things that could help minimize the risk of contracting the virus. Here are a few guidelines to follow.

What to do before heading to campus
Students should check their temperature and self-monitor for symptoms prior to coming to campus, Health Services director Angela Middleton said.
UTA has provided students with the UTA Mobile app and a checklist on its coronavirus webpage to help monitor symptoms.
Face masks or coverings are required on campus, so it's a good idea to carry an extra face mask in case one gets misplaced or soiled, Middleton said.
Employees and students can get cloth face masks if needed at the University Center, Central Library and The Commons.
Students may also want to have hand sanitizer that contains at least 60% alcohol, facial tissues and disinfectant or alcohol-based wipes on hand, Middleton said.
What to do and not do while on campus
Students should wear a face mask or covering inside buildings and in places where social distancing is hard to maintain, according to UTA's website.
A face mask is not required when working alone in a private office space or a cubicle that's 6 feet away from another person, according to the website. A face mask is also not required in a private lab or residence hall room or apartment.
Students should practice social distancing, wash and/or sanitize their hands throughout the day and head home if they start feeling sick, Middleton said. Students should also avoid large gatherings or attending parties.
They should not come to campus if they are waiting for COVID-19 test results, if they test positive for COVID-19 or if they've been in close contact with a COVID-19 positive individual, Middleton said.
When entering a classroom, students can clean the seating area and surface with cleaning supplies provided in each classroom, according to a health and safety protocols video by UTA.
Students should also refrain from meeting with others before and after class in the hallways or in the classroom, according to the video.
What if you need to get tested for COVID-19
Students can get tested for COVID-19 at the Health Center after an initial consultation with a Health Services provider, Middleton said. Tests are conducted by appointment and provided at no cost to students.
Students can call 817-272-2771 to schedule an appointment or speak with a staff member, she said. While most visits are conducted as a phone consultation or virtual visit, medical providers will determine whether an in-person or telehealth visit is needed.
Test results are available within two to three days, Middleton said.
While students wait for the results, they should stay home and isolate themselves from others in the household, she said.
@anybybritt