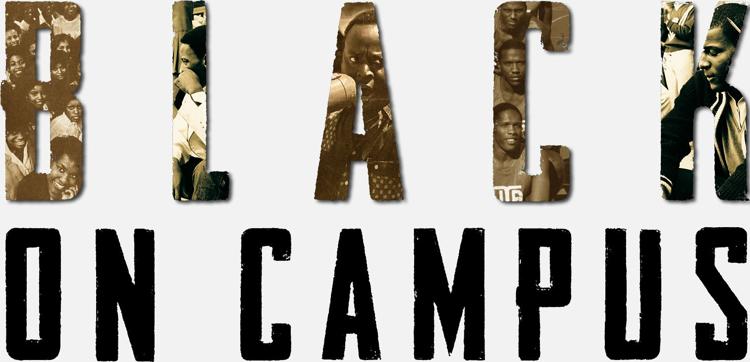 This is the second installment of "Black on Campus," a three-part series that explores the legacy of race at UTA.
After the death of George Floyd, the Black Lives Matter movement experienced a social and political resurgence on an international level.
From protests across the globe to pledges of support from multinational organizations, the Black Lives Matter movement has become one of the largest in U.S. history.
The conversation has expanded, leading to the examination of other structures and institutions potentially minimizing Black people in other aspects of life.
Of those institutions, academia has not escaped criticism.
The hashtag #beingBlackatUTA is one of many hashtags examining the experience of Black individuals in higher education. Hashtags like #BlackAtSMU and #BlackAtUNT have exposed encounters with police, racist classmates and microaggressive faculty at neighboring universities, while #BlackInTheIvory has shed light on the racism experienced by Black scholars.
Digging into #beingBlackatUTA as well as the experience of Black student leaders and faculty reveals a university that, despite its ethnically diverse student body and substantial Black student and alumni population, still lacks in its service to those students and professors.
While dealing with microaggressions and overt racism, they don't see themselves represented among faculty, staff and administration. Meanwhile, Black faculty are often forced to maneuver through spaces that seemingly don't want to accept them.
For social work professor Ryon J. Cobb, for instance, being Black at UTA means leaving UTA.
Cobb said although there has been a push for diversity and equity at the administrative level during his time at UTA, he doesn't believe every department on campus embraces those ideals.
"When I talked to other Black faculty members here, [I] hear variations in their experience[s]," he said.
Cobb said that across the higher education landscape, Black faculty face common issues, such as colleagues not valuing their work or students questioning their authority. But those are not the reasons he's decided to leave UTA.
In 2018, Cobb and fellow social work professor Maxine Davis received an anonymous letter in the mail.
The letter attacked Davis and Cobb, with some of the comments demeaning how they speak, saying that Davis doesn't speak professionally or like someone with a Ph.D.
"It doesn't necessarily call me the N-word," she said. "[But] for someone to assume that someone with a doctoral education has to speak in a certain type of manner really is a representation of white supremacy in [academia]."
The letter came after several faculty meetings where Davis said she spoke out about improving the culture of her department and discussing microaggressions she'd experienced during her time at the university. These microaggressions include someone telling her how to speak or someone touching her hair. Based on the fact that the content of the letter related to those meetings, she said she knows it was sent by a fellow faculty member.
Davis said the Title IX Office ruled that what she experienced was problematic, and administrators instructed her to notify the police department if she received another letter. Cobb said he appreciated the president and provost's response, but the original response from the School of Social Work was "admittedly weak."
Following the discovery of the letter, social work faculty were sent an email about the incident.
The email said that although members of the department may think they are "meeting or exceeding these principles and standards of diversity," the recent incident "demonstrated that there may be room for improvement, self-reflection and learning."
The email encouraged faculty to take the Harvard Project Implicit Bias Test and suggested they were "exploring other ways we may be able to address" the issue.
Cobb said the incident made it harder for him to focus on his job because he had to worry about who sent the letter, how much power they potentially had and what could come next.
This was all during their first year at UTA.
"I knew very early on that although I saw people liked me, that it didn't necessarily mean that [I] in my full authentic self was welcomed and affirmed," Davis said. "And I continue to experience further incidents that confirm that."
Despite this, Davis said she doesn't plan on leaving the university. Instead, she hopes to speak out as much as necessary to push for a better environment within the university.
Cobb, though, is moving on to the University of Georgia. After other incidents, including one where a white student worker yelled at him during a diversity meeting, he said he had to leave UTA.
Cobb's departure further minimizes the number of Black faculty at UTA.
According to the National Center of Education, out of the 1,004 full-time instructional staff at UTA for the 2018-2019 academic year, 50 were Black or African American, with 26 of them being on contract for less than one year. Out of the 442 tenured faculty, 13 were Black. Out of the 119 tenured track faculty, five were Black. Out of the 177 lecturers in a one-year contract, only six were Black.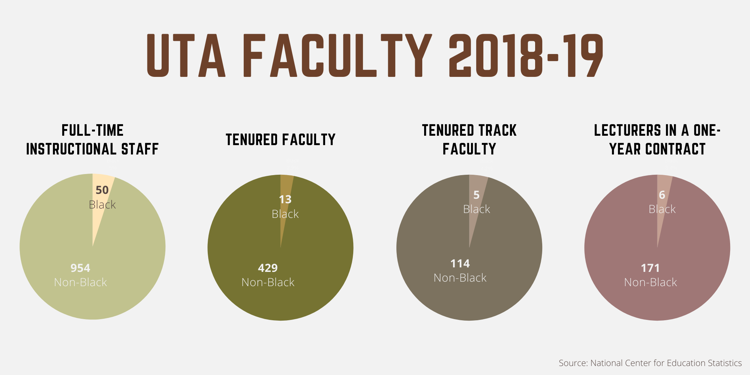 Black faculty made up less than 5% of faculty and only 3.2% of tenured or tenured track faculty, while Black students made up 15.2% of undergraduates and 13.8% of graduates in 2018.
For decades, Black students and staff have urged the university to hire more Black professors, especially to tenured positions. Historically, the response has been that there aren't enough Black faculty that apply for those positions.
But Cobb said he believes certain departments at UTA have a revolving door of highly qualified women and minority faculty, many of whom experience similar treatment to his.
Davis said the lack of Black faculty, especially Black tenured faculty, who would have the power to vote in committees, means there are fewer people at the university who are likely to introduce ideas that support and advocate for Black students.
"There really is a thirst and yearning for tenured and tenured track faculty across campus from students," she said. "It was in a recent session hosted by the Multicultural Affairs department [that] I realized how few tenured and tenured track Black faculty members there are across campus, and how much a minority I was in terms of representation on campus."
Multicultural Affairs director Melanie Johnson said the issue of not having enough Black faculty, Black tenured faculty and Black upper administration is a major concern for UTA's African American Faculty and Staff Association, of which she's a member.
Johnson said a lack of minority faculty could result in certain issues in the classroom. Sometimes, faculty who haven't experienced racism or who are not well-informed may encounter racism in their classroom and let it happen or not know what to do about it.
Johnson said students who are connected to faculty and staff, especially those who look like them, are better retained and receive higher grades. Plus, a diverse set of faculty is beneficial to students who aren't Black or minority by introducing them to various mind-sets and opinions.
"Being able to interact with faculty and staff who are Black is going to be very beneficial," she said. "If we're going to make long-lasting and impactful change, not only at UTA but in our community, it needs to start at UTA, and it's going to start with those conversations. And those conversations can't happen if those Black bodies are missing [from] the room."
But in the present, Black faculty and staff percentages do not correlate with the percentage of the Black student body, something that students who contributed to #beingBlackatUTA voiced their frustrations over.
Students posted about their academic advisers suggesting certain majors based on their "backgrounds," having professors minimize their project or essay ideas because they want to speak out about racism or not seeing Black professors in their majors at all.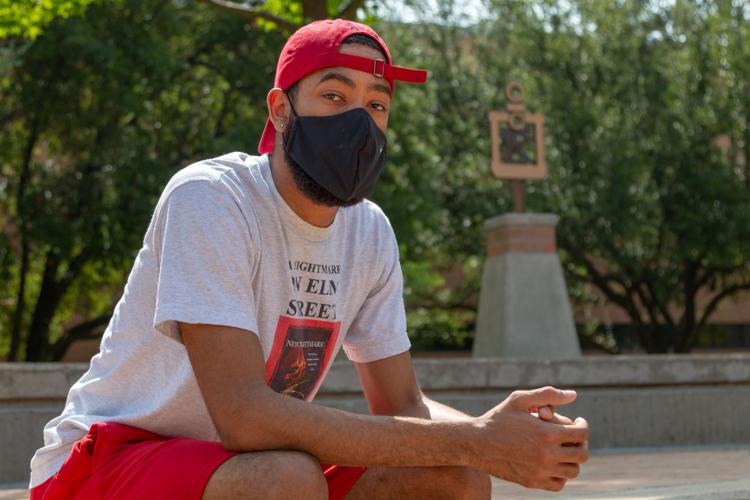 Public health senior Myra Simon said she had to actively seek out her first Black professor. Finance sophomore Kayrah Lee said she has only had one Black professor during her first two years and has been looking for a Black female mentor in her career field. Criminal justice senior Rashaad Jones said he often feels lost in his academic path and wishes he had more guidance because there's not many minority faculty members that he can go to.
"I don't feel like I'm represented on that level when it comes to the campus," Jones said. "And [there are] plenty of other people who can say the same."
Other contributors to the hashtag highlighted racist or microaggressive encounters they had experienced. Aerospace engineering freshman Wanjiru Randolph said she was called a "burnt brownie" by some members of her engineering learning community during the first month on campus and was explicitly told by them that they don't associate themselves with "burnt brownies."
Randolph said that as a Black female engineering student, she already knew she would stand out and would have to rise above things, but that incident put her down. She wanted to leave her learning community and didn't feel comfortable speaking to anyone that was a part of it.
"I had never experienced racism like that before," she said. "You hear about that stuff, but I never in my life experienced that before I came to Arlington."
Simon shared multiple uncomfortable situations — like when she was told by a student during a class discussion that Black people escalate racism, when she was jokingly called a slave by a white friend or how people don't understand how discussions of race hit closer to home for her than just a mere conversation.
Jones spoke out about the time he felt he had to prove to a student that Black people still face systemic oppression in the justice system and when he had to explain to another student that the NAACP is not a group that minimizes the struggles of others in order to advance justice for African Americans.
Jones said he decided to contribute to the hashtag because even though Black people talk about the racial incidents they face to each other, he believes it is time for that conversation to reach a wider audience.
"Everybody had their own story to post," he said. "They had their own experience about being Black at UTA. Everybody has some type of secret that they are hiding from everybody else that people don't really shed light on."
In Lee's contribution to the hashtag, she highlighted an encounter she had with campus police.
During the semester, Lee was coming home at about 3 a.m. after finishing her shift at Pluckers Wing Bar. She said campus police usually follow her into her dorm parking lot, but on one night they parked behind her car and came up to her window. Lee said the officer asked her if she was high or had any drugs on her, got her out of her car and searched it. Lee found it odd because she obviously had her work uniform on. The entire ordeal took so long that Lee didn't get to her dorm until about 5 a.m.
Lee said she knows she needs to take precautions when interacting with police, but that's one of the only times she's ever had an encounter like that.
"You never think it's gonna happen to you until it happens to you," she said. "You don't feel welcome in a place that you're supposed to feel safe in."
There are moments when the feeling of not belonging in certain spaces is prevalent for Black students.
For Simon, that feeling is magnified by the reminders of UTA and its leaders' racist history.
The University Center and the bust inside it of former university President E.H. Hereford have been a point of contention for students in recent years.
Claims to remove Hereford's name and bust began in 2018 after Mark Napieralski, Progressive Student Union president, proposed it to the Student Senate. The call for their removal stemmed from the fact that during Hereford's 1946 to 1958 presidency, the Rebel mascot was adopted, the Confederate battle flag was made the school symbol, and the Kampus Kadet Klub was a registered student organization.
The proposal led to heated debates, petitions, counterpetitions and a number of op-eds, but it ultimately failed in the Student Senate in 2018 and again in 2019.
"The history that's behind UTA's campus, it's something that you have to see every day," Simon said.
Another point of contention is Davis Hall, the administrative building that houses the Office of Financial Aid and the Office of Records and Registration. It is named after Edward Everett Davis, dean from 1925 to 1946, when UTA was still known as North Texas Agricultural College.
Davis was a known eugenicist, believing that certain races and populations are biologically inferior to white people. He wrote in his novel The White Scourge that "the most serious rural problem in the south is not that of soil conservation, crop production, co-operative marketing, or race relationships, but that of the biologically impoverished tribes of marginal humanity — black, white, and Mexican — subsisting on cotton."
In April, the Student Senate passed a resolution to rename the building, saying UTA should not memorialize someone with racially prejudiced views.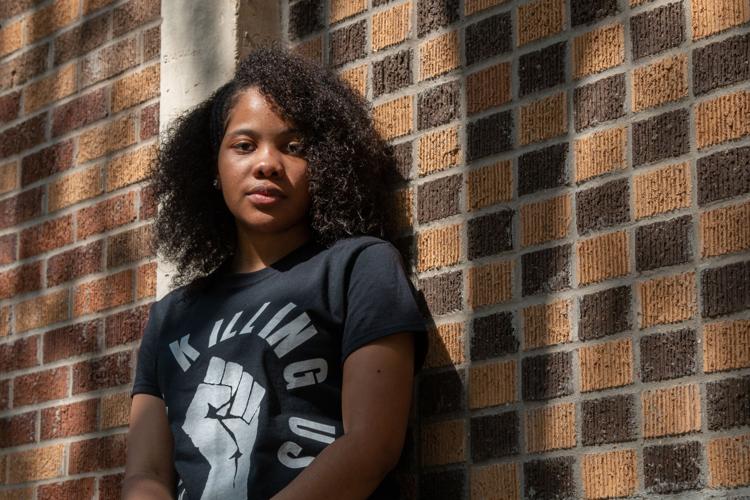 Student Body President Blaize LaFleur was one of those who worked on the resolution, when she was still serving as the special affairs chairperson. She said her time working in Multicultural Affairs exposed her to marginalized groups on campus and led to her working on the resolution.
Although the resolution garnered support from alumni and students on campus, Student Government is unable to move forward with the renaming process. LaFleur said building name change requests have to be approved by the university president before they are sent to the UT System Board of Regents for final approval. However, amid the COVID-19 pandemic and UTA still not having an official president, she and her colleagues are unable to make any progress.
A saving grace for many Black students is the support they receive from each other via student organizations and UTA's ethnically diverse student body.
Jones, who is a member of UTA's NAACP chapter, A Collection of Brothers and Men of Distinction, said there is a prominent and connected Black student community on campus.
Jones said when he first attended UTA, he felt a void in his academic experience before joining student organizations, and not having knowledge of these organizations can make you feel like just another student.
"If I was a Black student on campus, and I didn't know anybody, and I didn't join any organizations, I don't think I'd have the necessary resources that I need," he said. "I feel like I wouldn't have positives."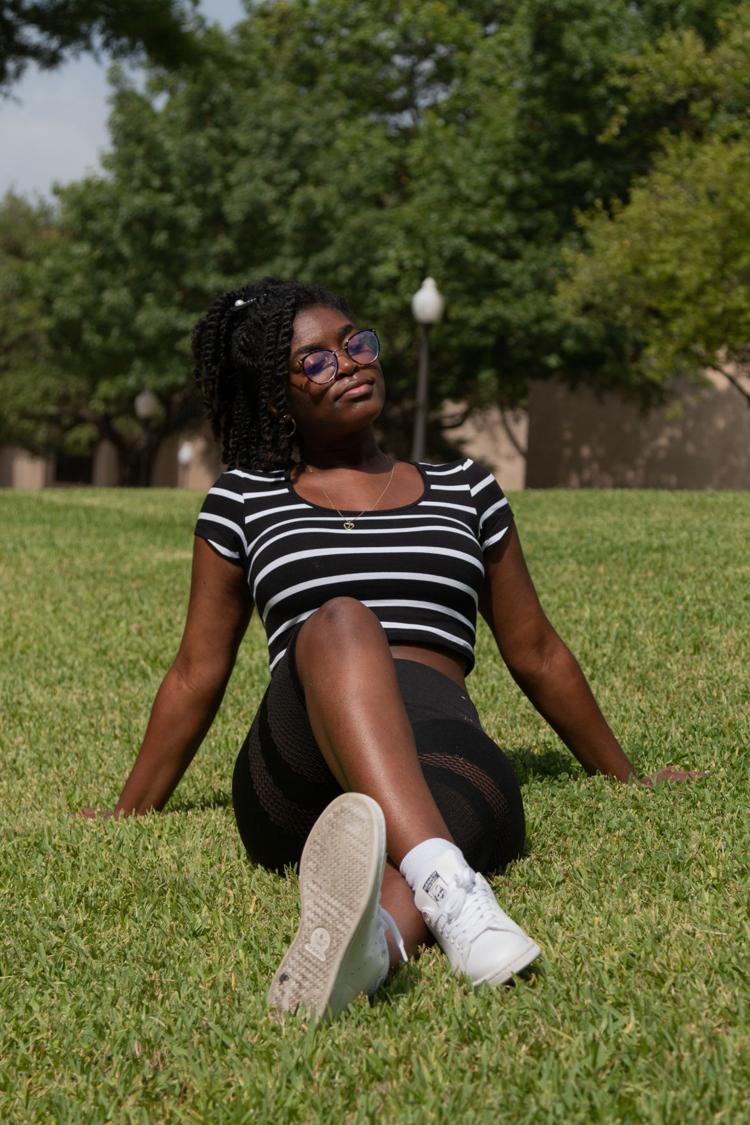 Criminology junior Kynadi Harris, who is the Black Student Association Community Service chair, said it's important to emphasize the community that can be found in organizations that bring Black students together.
"Certain organizations have a historical background because they were needed on college campuses," she said. "The sense of community is so important because when you feel shut out of the world, you need to have a place to go where people will understand and you can feel at home even if you're away from home."
Xavien Johns, Mr. UTA, NAACP juvenile justice chair and A Collection of Brothers member, said Black organizations allow students to meet others, find mentorship and be empowered.
Johns said that he wouldn't be on the same path of success that he's on now if it wasn't for the mentorship he received from an older student through the Center for African American Studies early on in his academic career.
"I literally can't explain how much that meant to me as a first-generation college student who didn't have parents or uncles or cousins who had gone to college, who can tell me that it's OK that you're in the library until 2 in the morning," he said.
Johns said he's happy with the work that's being done, especially in departments like Multicultural Affairs, to bring Black Lives Matter conversations to UTA.
As the Black Lives Matter movement has made its way into the mainstream again with a firmer grip, conversations of what it means to be Black on a campus like UTA have brought up a series of issues. Despite this, Simon said the positive and negative aspects at UTA are indicative that it's a place in need of growth, but that growth can happen.
"I wouldn't say that my UTA experience is all bad and everything sucks. I definitely think there's a balance," she said. "I feel like as long as we continue to fight and voice our opinions, all will be well."
@TritimaAchigbu @ByDavidSilvaR