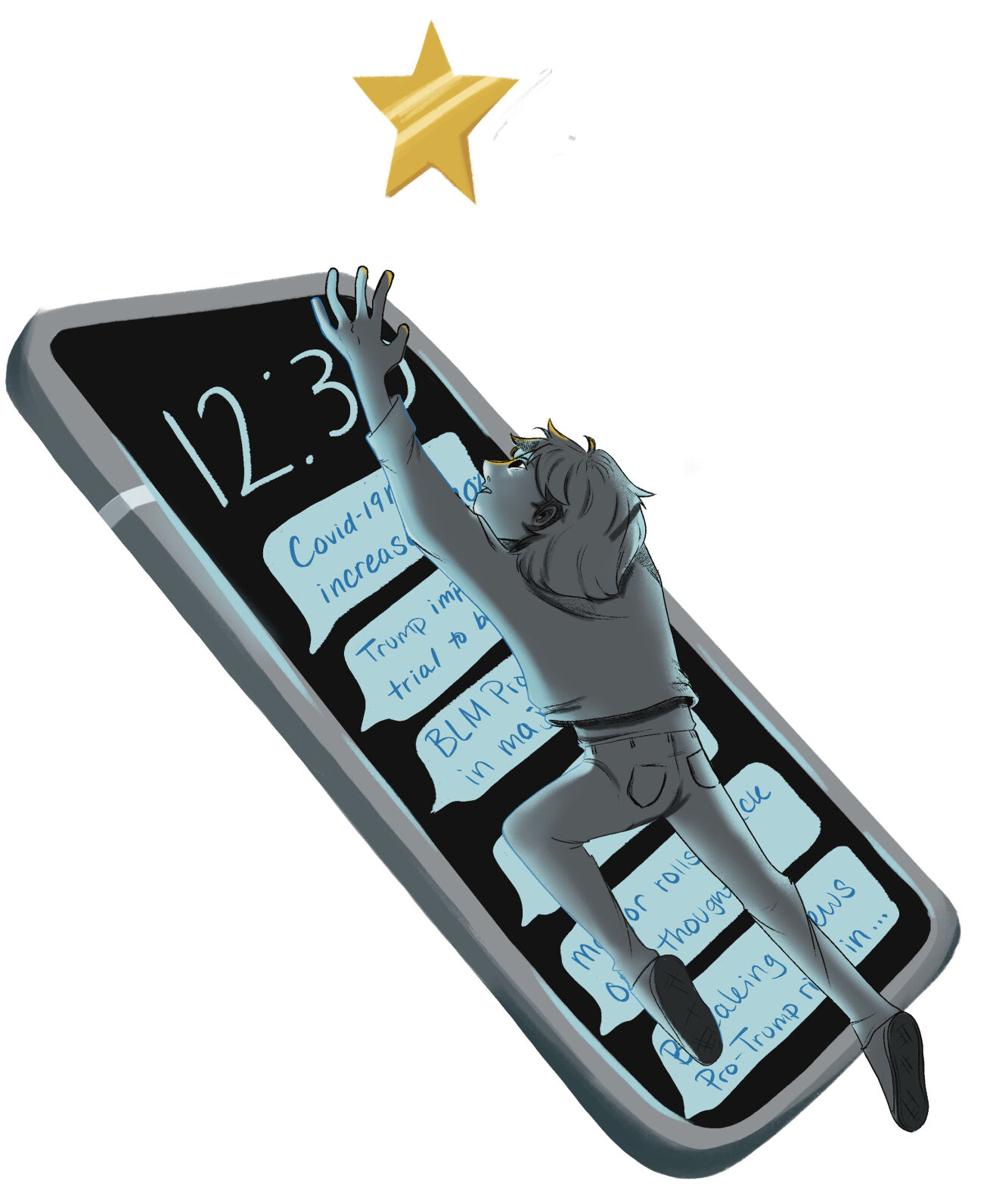 Following the events of 2020, the daily political news cycle in America has become increasingly downcast, spurring many people to constantly follow current events. While this has led some to feel burnt out, many members of UTA have found ways to lighten the load. 
Political science freshman Shivani Desai first began to care about politics in 8th grade, when Donald Trump announced his presidential campaign. The novelty of a reality star running for president intrigued her, but what kept her interested was the progression of his run. 
Looking back, Desai said she feels that having Trump in office for most of their adult lives changed the way her generation interacts with politics. The controversial topics had always been there, but Trump's polarizing campaign brought them to the attention of her and her classmates for the first time.
Desai said the awakening she had was the same for much of Generation Z — people born 1997 or later — as many of Trump's actions got them fired up online.  
"I don't think I would have thought to get into politics if it weren't for him, so that's one thing I'll credit him with," Desai said.  
As someone who's been following the news since middle school, Desai had plenty of experience reading about melancholy events. 
For years, she received notifications from Apple News, CNN and The New York Times about every little thing that happened in the world. But when the coronavirus pandemic began, it all became too much.   
Desai was bombarded with articles and notifications about the depressing state of the world, and although she wanted to keep up with the facts, the stories of healthy people's deaths began to affect her. 
Eventually, she turned her news notifications off. Desai has since felt better, viewing news on her own terms when she's mentally ready — a tip she'd recommend to others who might feel overwhelmed.
Political science professor Thomas Marshall said he wouldn't describe current news as depressing necessarily, but his perspective came with years of experience analyzing politics.   
Many news stations often use a dramatic tone when breaking information, and this can contribute to the overwhelmed and distressed feelings readers get when catching up on news, he said.
When you've read as much news as he has, you start to see patterns in the way certain publications present topics, Marshall said. Knowing what's likely been dramaticized is one way to minimize stress until you verify the information.
Choosing to view news in 10-minute chunks is also helpful to avoid doomscrolling, Marshall said. 
"Prioritize what really matters to you personally, whether it's family or whether it's work or classes," he said. "And then in your spare time, but not constantly, we'll get the news feed." 
Like Desai, architecture freshman Tony Pham first got into politics because of the 2016 Presidential election. Now, Pham is a student senator for the College of Architecture, where he represents his peers and brings them into conversation.  
His interest in politics stemmed from seeing the increasing radicalism from all political parties in the 2016 election, and Pham said he wouldn't be surprised if many other student leaders joined for that reason.
The rise of Trump's presidency forced him to care more about what goes on politically, which led him to care about and pursue student government.
But following the news so heavily put Pham in low spirits, and he's lucky he had someone to force him off his phone for a day, he said.
"What I ended up having to do is to literally log off Twitter and shut my phone down," he said. "Whatever it takes to just distract me from thinking about that, and then come back to it the day after." 
It was hard to do the first couple times, when he felt like he was missing something big, Pham said. But it's important to remember that the news will still be there when he returns.
@Sam_Knowles00