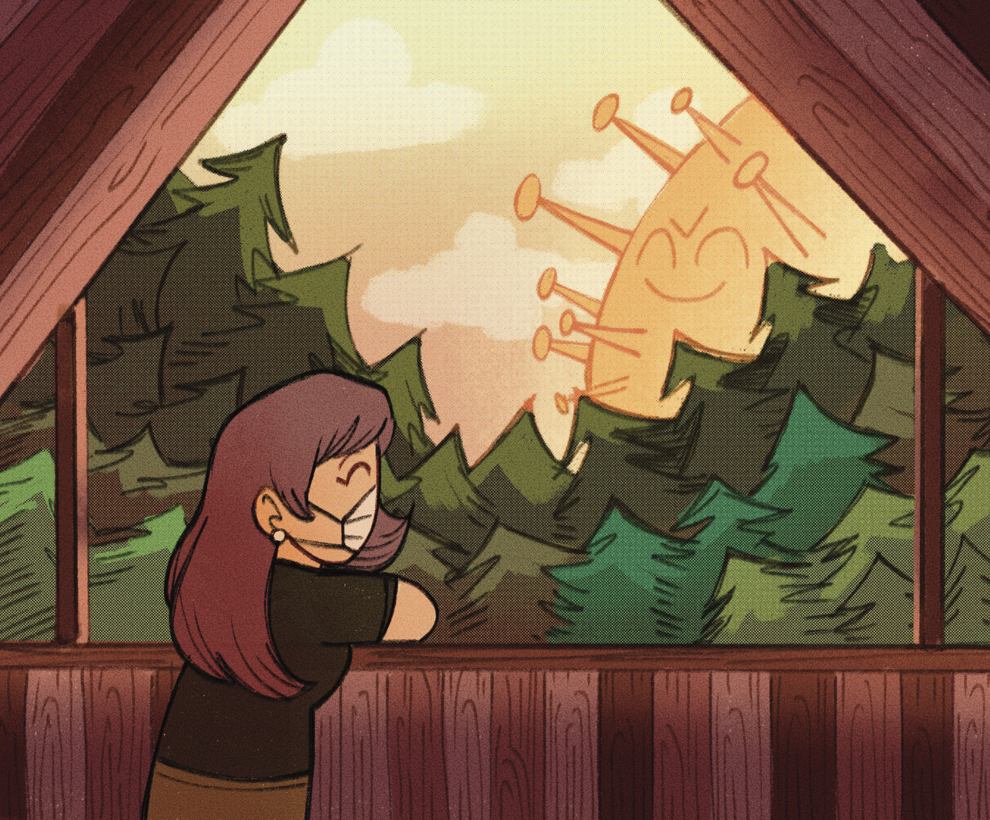 Travel and family gatherings during the holidays and winter months are an opportunity to connect with loved ones and battle the isolation caused by the COVID-19 pandemic. But as the pandemic worsens by the week, it's important to consider health and safety tips and modify certain holiday traditions to reduce the spread.
The Centers for Disease Control and Prevention offers these tips to lower the risk and supplement state and local regulations.
Before you travel
Before traveling to a gathering or a vacation spot, try to make coronavirus-related preparations. First, check if COVID-19 is spreading at your destination. The more confirmed cases, the more likely you are to get infected.
It's also important to check if your destination has state or local requirements or restrictions for travelers, such as requiring travelers to stay home for 14 days after your trip.
What kind of gathering should you host/attend
If you plan to host or attend a holiday get-together or meal, there are several modifications you can make to reduce the risk:
Have a small outdoor meal with a limited number of family and friends who live in the community. If celebrating indoors, make sure to open windows.
Clean and disinfect frequently touched surfaces and items between use.
Limit the number of people in the kitchen.
Have guests bring their own food and drink.
Use single-use options, like salad dressing and condiment packets, and disposable food containers, plates and utensils.
If sharing food, have one person serve food and use single-use options, like plastic utensils.
Communicate with friends and family ahead of time to set clear expectations.
Who should and shouldn't be there
If traveling with a group or gathering in person for a meal, there are certain family members or friends who are at increased risk of severe illness from the virus. They may consider avoiding the gathering altogether.
For adults, the risk for severe illness increases with age. The greatest risk for severe illness from COVID-19 is among those aged 85 or older, but even adults in their 50s, 60s and 70s are at increasingly higher risk the older they are.
Additionally, adults of any age who are immunocompromised or have conditions like cancer, chronic kidney disease, heart conditions, severe obesity and more are at an increased risk, while adults with moderate-to-severe asthma, high blood pressure, Type 1 diabetes and more might also be at an increased risk.
Weigh your travel options
Depending on how far you plan to travel, there are usually several options as to how to get to your destination.
The CDC says the travel methods with the lowest risk include short trips by car with members of your household and no stops along the way.
Longer trips by car or recreational vehicle with one or more stops along the way add more risk, while trips by car or RV with people who are not in your household, long-distance train or bus trips, and direct flights pose even more risk.
The highest risk travel methods are flights with layovers and traveling on a cruise ship or riverboat.
Where to stay
There are several options regarding where to stay during a trip, with each option having a certain level of risk.
The CDC says that staying at a house or cabin with people from your household still has the risk of spread, but hotels or multi-unit guest lodging, staying at a family member's or friend's home and staying at a house or cabin with people that are not in your household pose a greater risk.
The highest risk lodging method is staying at a shared space with many people and shared bathroom facilities such as a hostel.
Minimize spread and remember the basics
Remember the prevention basics when it comes to COVID-19:
Wear a mask to keep your nose and mouth covered when in public settings or at a gathering when not eating or drinking.
Stay at least 6 feet apart from anyone who is not from your household.
Wash your hands often or use hand sanitizer.
Avoid touching your eyes, nose and mouth.
Maybe go virtual
As undesirable as it may be, staying home and hosting or attending a virtual holiday gathering is the best option for reducing the risk of spreading COVID-19.
Scheduling a time to share a meal together virtually can allow everyone to join and eliminates spread potential from in-person gathering, transportation and lodging.
@ByDavidSilvaR