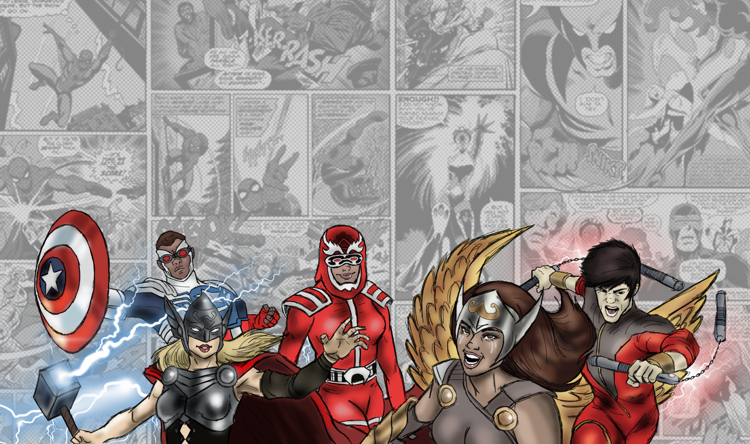 Theater sophomore Devin Sternes said she grew accustomed to seeing white actors dominating the roles of vigilantes, heroes, princes and princesses in movies and not seeing herself and her darker skin color reflected in those characters.
Instead, Sternes saw people of color portrayed as drug dealers, sex addicts or single moms. But she said that's not how she sees herself.
"If you were to see yourself depicted as anything in the world, it'd be the coolest thing to see yourself, like, a superhero," Sternes said.
It's empowering to see a character who represents a piece of yourself, she said, whether it's through skin color, gender or sexual orientation.
This month, Marvel Studios announced the upcoming Phase 4 of its Marvel Cinematic Universe film and television projects at San Diego Comic-Con 2019, along with a slew of diverse characters set to take the screen.
Dale McKethan, Panel by Panel Comics store co-owner, said the project's diversity resembles the existing Marvel Comics' diversity.
"All those things that are in the movies or that are gonna come out in the movies, they've already actually done in the comic books," McKethan said. "Comic book history is actually riddled with diversity. That's one of the main things in Marvel."
For instance, he said Marvel created the first openly gay comic book superhero, Northstar. Marvel also created the X-Men, which was characterized by people of every race, culture and creed.
From there, the comics took off, McKethan said. Marvel continued to diversify its characters.
Now that Marvel has announced its Phase 4 lineup and begun integrating more diversity into its films, he said many fans are excited while others may think heroes like Thor and Captain America shouldn't be replaced by female or black characters. However, even in the comics, Jane Foster becomes Thor and the Falcon takes Steve Roger's role as Captain America, McKethan said.
It's not new, he said.
Dustin Harp, women's and gender studies program director, said filmmakers create an alternate reality through movies and TV shows that influence viewers whether they know it or not.
Traditionally, lead roles were filled by straight, white men because they were the ones creating the movies, Harp said. Now that more diverse people are writing, producing and directing, they're casting more diverse actors.
Having a black actor like Anthony Mackie play the Falcon and fill the role of Captain America continues the efforts that Black Panther started in adding more black men to the modern superhero entertainment industry, Harp said. For too long, she said, black men have been portrayed as criminals or villainous characters in films.
"It's about time, right?" Harp said regarding diversity in films.
More women and LGBTQ characters are also being represented in lead roles of the Marvel Cinematic Universe. Among those are Portman's Thor and Thompson's Valkyrie.
Harp said more representation of the LGBTQ community in the entertainment industry will lead to more acceptance.
"It's normalizing it," she said. "It's making it clear that this is just part of who we are."
Adjunct communication professor Beth Haller said representation is just as important for people with disabilities.
Deaf actress Ridloff playing Makkari in The Eternals will add authenticity and representation to the movie because of Ridloff's personal experiences with the disability, Haller said.
"Hollywood will hopefully get the message that people with disabilities, actors with disabilities, actors with deafness can carry a movie, and the people will go see them," she said. "It'll be a better representation when you have people that are really, authentically representing the characters."
@CecilLenzen