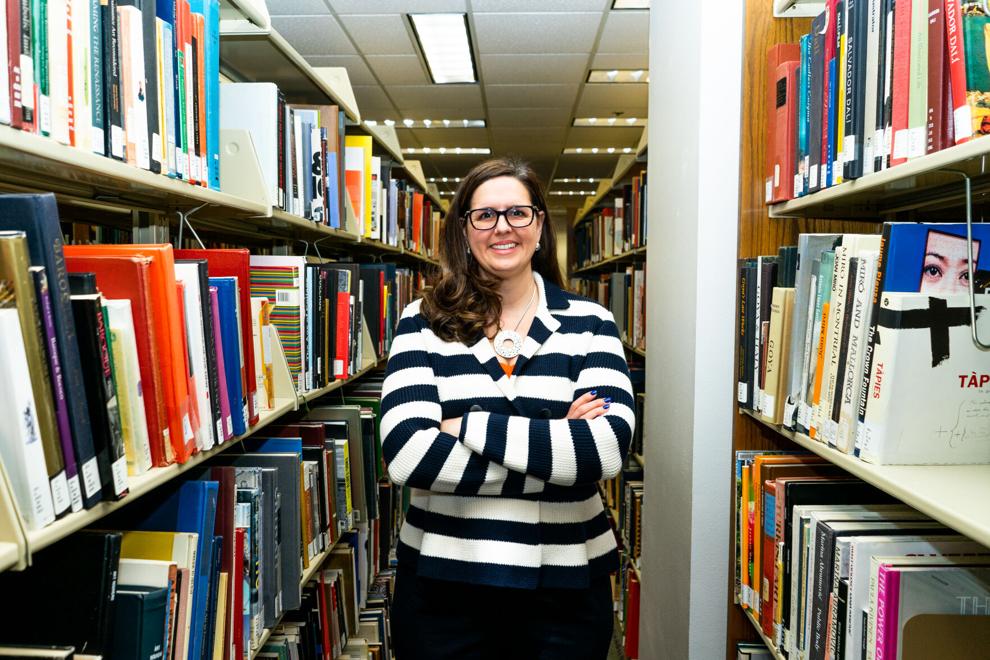 From the dark academic robes at her investiture ceremony to roaming  the University Center in a blue, inflatable Among Us costume for Halloween, it's been a busy first full semester as UTA's president for Jennifer Cowley.
In February, Cowley was announced as the 10th and first female president at the university, ending almost two years of then-interim President Teik Lim guiding UTA through the COVID-19 pandemic, a winter storm and multiple civil rights protests. Since Cowley's tenure officially began April 28, she has made use of her time by implementing five strategic themes to develop the university's growth, filling multiple vacancies in the top positions of the university and making her presence known on campus.  
In the beginning, Cowley said she was a little bit nervous and did not know what to expect from the community and the issues on campus. But the experience thus far has been better than she imagined. 
"Every week, I find something on campus that is just unique and spectacular," she said. "As I have the opportunity to meet with our faculty and tour their labs, I get to discover all kinds of things that make UTA unique." 
But even before her tenure officially began, Cowley was already making her mark on the university. 
February 
Twenty-five days after the UT System Board of Regents named Cowley as the sole finalist for the position, she became the permanent president Feb. 1. Per state law, the board had to wait 21 days to name her as president, according to previous Shorthorn reporting. 
In a universitywide email to the community, Cowley announced a national search for the provost and vice president for Academic Affairs — her first hiring announcement. The search concluded with the hiring of Tamara Brown. The two had worked together at the University of North Texas, where Brown served as the executive dean of the College of Liberal Arts and Social Sciences. 
Cowley said that the number of vacant and interim positions before her arrival was purposeful, as the university wanted to ensure that the new president had the chance to pick her team members. 
"I would say that the priorities were clear, coming in as a new president," she said. "So, one, it was making sure that we were recruiting a great team of leaders to our campus to make sure that we could all move forward together and setting key priorities for the institution." 
March 
As Lim hosted his final Tea with Teik to connect with students, Cowley continued to progress in filling UTA's senior leadership positions by launching the national search for a new Athletics director March 22. 
The search concluded in the summer with the hiring of Jon Fagg, then-deputy Athletics director from the University of Arkansas. Cowley, who's been attending multiple Athletics events, said Fagg has good ideas about activating the student body and getting them to engage with more sports games, such as having more themed nights and developing a winning program.  
"He is thinking about the time of the games and what opportunities we might have to be able to have partnerships that might create more excitement and energy," she said. "Of course, first and foremost is everybody wants to see a winning team, and so that's his principal responsibility is to help us plan for ensuring success of all of our Athletic teams." 
April 
Besides announcing the searches for more senior leadership positions, the president created a Twitter account dedicated to her UTA journey April 11. For her first post, Cowley shared that she'd gotten her first Mav ID. Two days later, UT System Chancellor James Milliken hosted a welcome reception at UTA for Cowley. Fifteen days after that, she officially began her tenure at the university. 
She said a permanent president is expected to create, execute and drive forward strategic plans and directions. While an interim president does things to ensure the university is well run, certain long-term decisions would be more appropriate for a permanent president to make. 
"We're getting ready to launch our campus master plan. A campus master plan is going to look at the physical footprint of the campus over the next 20 to 30 years and to begin making decisions about what buildings we'll be renewing and which new buildings we'll be bringing to the campus," she said. "That's an example of something you'd want to have done under a permanent president." 
May 
By May 11, the president had announced six national searches for senior leadership positions. She also began interacting with students and visiting the individual colleges more, from attending a glass-blowing demonstration and sales from the Art and Art History department to touring the School of Social Work and Smart Hospital Building, which is planned to open in spring 2023. 
Cowley was also able to deliver a conferral of degrees at UTA's spring 2022 graduation. 
"My proudest moment is being able to celebrate alongside our students as they cross the stage," she said.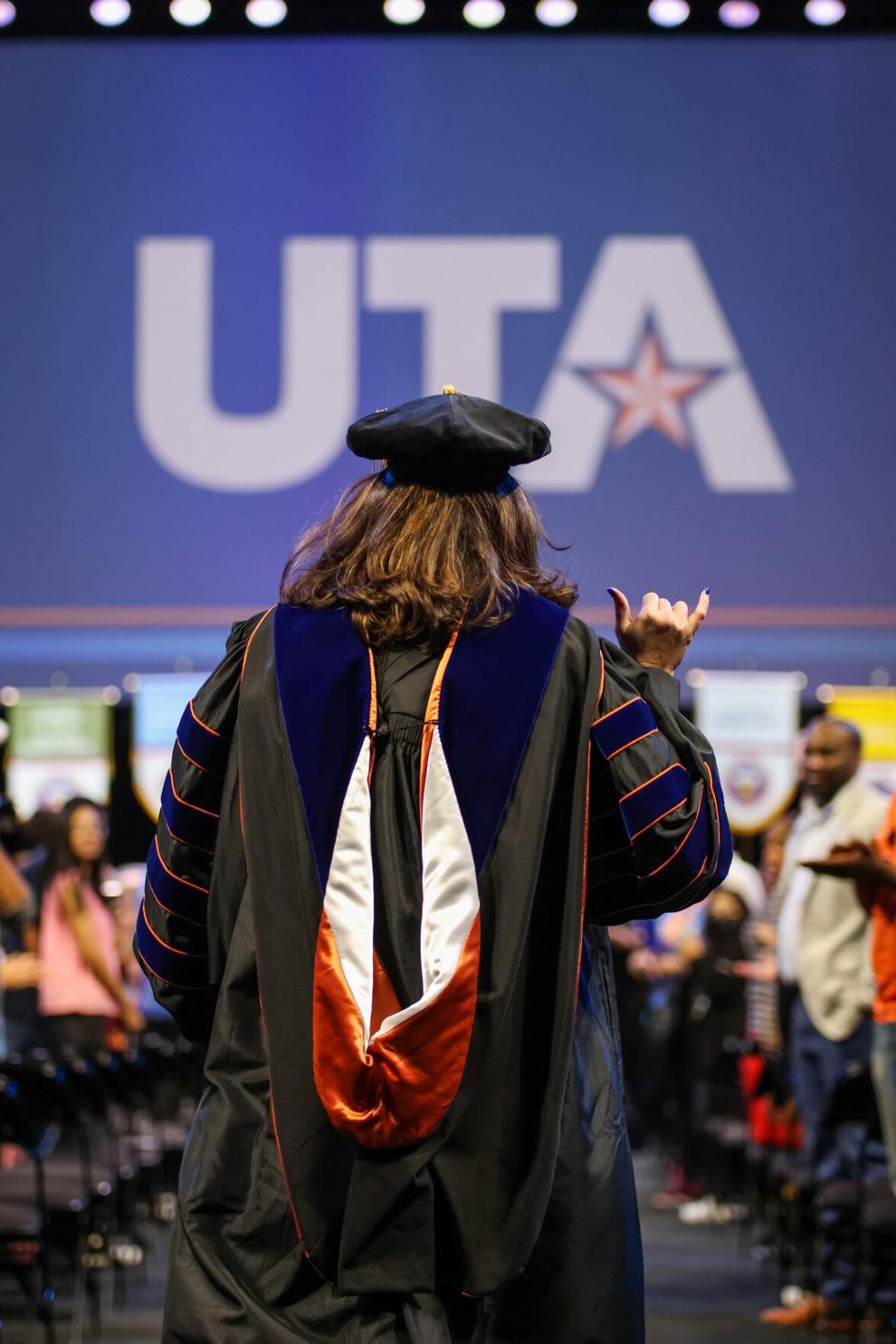 June 
In a campuswide email June 3, Cowley celebrated her 30 days in office, as she had met nearly 4,500 students, faculty, staff, alumni, donors and supporters of UTA in over 40 events. 
She had also begun working on the four strategic focuses announced on her first day of office: people and culture, student success, research and innovation, and alumni and community engagement. 
"I've spent a lot of time talking to folks across the campus and just asking them, 'You know, what are your dreams for our campus and how does that fit within our strategic themes?' And almost every idea people have will fit somewhere in those strategic themes, and that's really helpful for us as an organizing principle," Cowley said. 
July 
In her 75 days in office email July 11, Cowley added a fifth strategic theme: finance and infrastructure. After having conversations with campus stakeholders, she believed the university needed to focus on the campus master plan and the physical footprint for the future, which led to the creation of the fifth theme, she said. 
Besides campus engagement, the president also led a panel with Mayor Jim Ross to discuss the future of downtown Arlington and the relationship between the university and the city July 20. Cowley said she and the mayor are committing to ensuring that Arlington is a vibrant healthy city while UTA is a vibrant and healthy campus. 
"We are an anchor institution for both Arlington and our region, so we are the ones that are providing all of the talents that is going into the growing companies throughout our region," she said. 
August 
Three days after the semester began, Cowley said in a campuswide email that she has made a series of changes to the organizational structure, one of which was an adjustment in the reporting line. In the past, most vice presidents would directly report to the president.
Now, a number of them report to either the provost and senior vice president for Academic Affairs; chief of staff and vice president for planning; and the chief financial officer and vice president of business and finance. 
Cowley said that having all the senior leadership vacancies at the beginning of the semester allowed her to think differently about the organization of those positions. It is now more about having the right pieces and parts and organizing them to achieve the goals. 
September 
Months after officially beginning her tenure at UTA, Cowley was formally sworn in as UTA's president by Milliken on Sept. 30. The ceremony was UTA's third investiture in its history and the first since 2004. 
"Her spirit is infectious," Milliken said at the ceremony. "When it comes to leadership, Dr. Cowley knows how to translate ideas into reality and how to transform vision into action."
For some, the investiture is a formal ceremony to swear in the president. For Cowley, it felt like Homecoming to the Arlington native. 
"There are restaurants that are here from when I was a kid here that I get to go back and visit," she said. "My family lives here. I'm getting to discover new places. And you know, I was on campus a lot as a kid, and my son went to summer camps here. And so now, to get to be part of this UTA community in a whole new way, it's just such an incredible honor." 
Cowley's son, who's 17 years old, has been admitted to UTA and another school, she said. While he's impressed with the university, and she's trying her best to help him visualize what a UTA education could mean for him, nothing has been guaranteed. 
"I must admit, having your mom as the president is not exactly the greatest selling point, so we'll see," she said. 
September also saw one of UTA's most recognizable traditions, Oozeball. This year, she walked around and checked the field. But for next year, Cowley said she's "going to have a team." 
October 
It was a busy month for the president. 
In her latest email to the community Oct. 4, Cowley shared multiple campus updates through the five strategic themes. The announcement also introduced a new project: the renewal and redesign of the north and south bridges that span Cooper Street. 
She said that when she came to UTA, she thought that the bridges "could use some sprucing up." But the vision is more than just walkways, as she wants an iconic visual symbol that people driving down Cooper Street can see. The university is forming the facilities and communications teams together. But, there have been plans to host a design competition between students in the College of Architecture Planning and Public Affairs to get more ideas for the final design, she said. 
Throughout her entire first full semester, Cowley rarely missed a chance to engage with the UTA community, according to her active Twitter feed. One of the events she attended was Nepali Night, hosted by the Nepalese Students' Association. 
Nischal Rana, computer science senior and sports coordinator for the organization, said he was one of the students accompanying her at the event, as he's had the opportunity to watch one of Cowley's speeches at the College Park Center. 
Having Cowley at the event was important because she has such a busy schedule, Rana said. The organization's main goal was to expose its culture to multiple people, and she's one of the most important audiences they could actually target. 
"It was a great honor and great excitement having her there, and we kind of went all out for it," he said. 
Cowley said the best way to get to know the campus community is by being engaged with them. 
"Not every student is going to be interested in the same event and activities, and so the best way for me to get to know our students is to see them when they're engaging in places that are fun on campus," she said.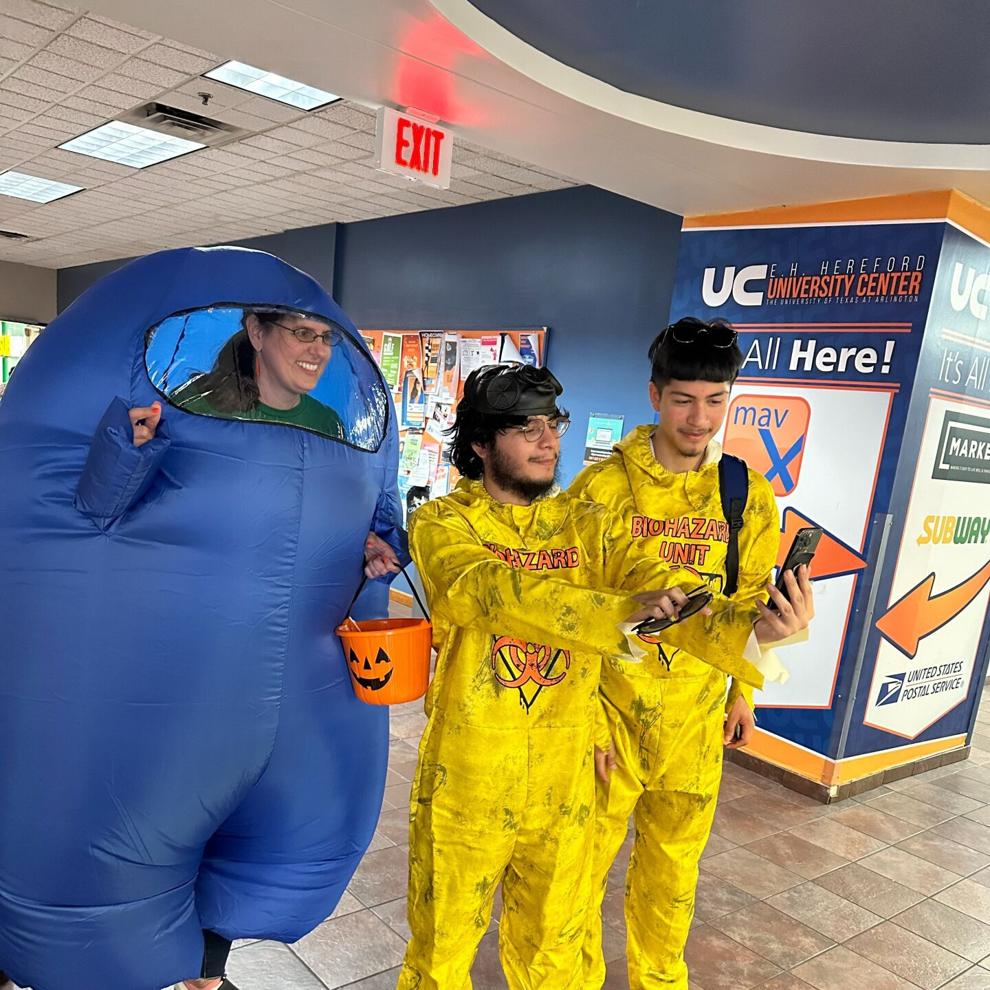 She also embraces her playful side. On Halloween day, the president, along with Brown and Lisa Nagy, vice president for Student Affairs, were traveling around campus in big, inflatable Among Us costumes, which Cowley thought of after failing to find blue and orange M&M costumes. 
"I'm just willing to be playful and just bring cheer to the campus," Cowley said.  
November 
As Marie Schultz, vice president for Development and Alumni Relations, began her tenure Nov. 14, Cowley said that all of the senior leadership positions reporting directly to her have been filled. 
December
It's a little secret, but it's not one, as Cowley has quite a collection of crazy holiday sweaters that she said she'll rock every day unless there's an important business that she may have to dress for the occasion. 
Spring 2023
The campus master plan will launch this spring, Cowley said. According to the university website, the last campus master plan dated from 2005 to 2020 and was approved by the Board of Regents in 2000. Regarding the future plans that she's looking to implement in the upcoming semester, Cowley said, "It's gonna have to be a surprise." 
She said it's been wonderful getting introduced to the community and receiving support to help her learn, but it's time to focus on specific strategies and action planning. 
"I love meeting all of our students and getting to know them, but now having recognized faces and names and getting to talk more about, 'OK, what are we gonna do about this issue or that issue?' That becomes even more exciting," Cowley said. 
@DangHLe