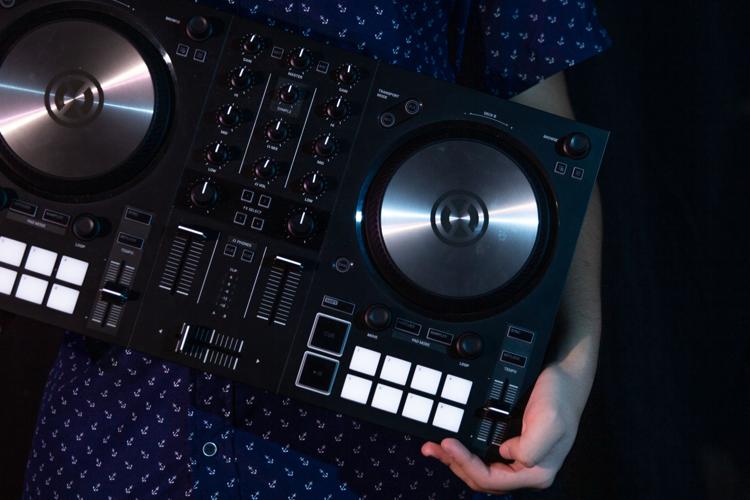 While most kids were playing tag and learning multiplication, computer science freshman Nathan Cordero was trying his hand at mixing beats.
Cordero's dad is a professional DJ, and during practices he would let his then elementary-aged son take a turn on the controls. Though back then he wasn't making masterpieces, Cordero said.
"Eventually, I got better, and now I have my own controller, my own speakers and everything I need to do a gig myself, if I ever wanted to," he said.
Cordero said his dad taught him everything, and now he wants to be a DJ, too.
Cordero comes from a musical family, as two of his sisters also tried to DJ in the past. But the practice only stuck with him, and his dad, of course. The two Corderos have played several venues together in the past, including Cordero's favorite, a James Bond-themed prom.
But the problem with playing live shows is that you can't please everyone, Cordero said, a bit of advice his dad gave him when he was first starting out.
Cordero recalls a time they played a wedding together, and one particular lady got heated when they didn't play her choice of party song.
"Sometimes there's going to be drunk people that are going to walk up and start yelling," Cordero said. "It's happened a couple times."
When deciding what to play, they usually start by switching between certain popular genres, Cordero said, to get a feel for the event and see what gets people dancing. With over 300,000 options in his iTunes library, Cordero has plenty to choose from, depending on the vibe.
"It starts off slow, and then as we get to know the audience, that's when the real music starts happening," Cordero said.
Contrasting from Cordero, for English junior Garrett Leach mixing is less familial, more rebellious.
Leach has been involved with music since he was 16, when he joined a punk band in high school. After he graduated in 2015, he moved to Austin by himself and got involved in the industrial music scene, which is popular in the area, he said.
Typically, industrial-style music is made with electronic gear to create something called "soundscapes," Leach said.
"The soundscape would be just found noise, or rhythmic noise, in a way," he said. "A lot of our music is very rhythm heavy."
Leach said he often draws inspiration from early industrial bands going back to the early '80s and that his is a very modern version of a band, involving analog gear, samplers and synthesizers.
"It's not traditional in any way," he said. "It's just two guys with a bunch of electronics but still music."
Typically, Leach will bring his almost completed ideas to his bandmate to get feedback, since he's a pretty indecisive person, Leach said. Together they play live with the recordings they have so far in a very underground type of music.
"That harks back to our punk background," he said. "And we bring the same ethic. Like, it's very DIY."
Leach said that although not every song is critical, when it comes to political issues and the like, music is a big way for their voice to be heard.
"It's a form of rebellion for us," Leach said. "Almost like using sounds to express our, you know, general distaste in things."
When it comes to the world of DJs, Ric Delzell, CEO of Arlington's Truth Vinyl and graphic design alumnus, has seen a few things.
Musicians of all types play at his store on weekends, most recently a metal band and a tour of DJs, whose recordings play in the store even when there's not a performance.
Delzell said he likes all music and has no favorite, but if he had to pick, music via records is the way to go.
"Records are the closest you could get to the original performance," Delzell said. "Vinyl has a lot more information on it than digital, so you hear things on vinyl that you can't hear on other sources. Like, streaming is the worst."
Sound is a wave form, and digital can't capture certain parts of it because digital means capture sound in a grid, Delzell said. Combine that with the way digital music is compressed, and you have a recipe for substandard music, he said.
"But everything has its place," Delzell said. "You can't play a record while you're running. So, there's nothing wrong with all those sources. It's just if you really want to hear something that sounds as close to the original performance."
Despite his current status mixing music digitally, Leach said his favorite show he ever played was in his old punk band days, when he played bass in high school. Leach played a show in an abandoned trash incinerator for around a hundred people, he said.
That night cemented Leach's love for music and small live show settings, even if he moved on to virtual instruments in the years to come.
Leach said his current career dream goal is to make music full-time in a studio. When asked how long he sees himself mixing music, Leach says he's always jamming on some idea, and that he's been at it for so long, it's practically second-nature.
"It's definitely more than a hobby. Sometimes I take that way more seriously than school," Leach said. "And that's sometimes a problem in my life, but that's okay. That's what I love, you know, so I definitely plan on doing it for forever."
@Sam_Knowles00