Film senior Rav Sitaula founded Skinny is Green during the summer. A few months later, they are already playing live gigs at places like The House of Blues in Dallas.
Skinny is Green is an alternative rock band made up of lead singer and guitarist Sitaula, drummer Jason Jorgenson and bassist Naru Bayalkoti. The band performed at The Shorthorn's Press Fest at noon Wednesday on the University Center mall.
Riffin at @UTAShorthorn 's PressFest pic.twitter.com/XrXHreho5S

— Bruno Fuentes (@MajorVice_) September 30, 2015
Sitaula got his start playing music in the eighth grade after he saw videos of live concerts and wanted to do what they were doing.
"I was watching live concert videos of Guns N' Roses from back in the day," Sitaula said. "I remember looking at the TV, and the energy felt so intense to me. I picked up my guitar that same day."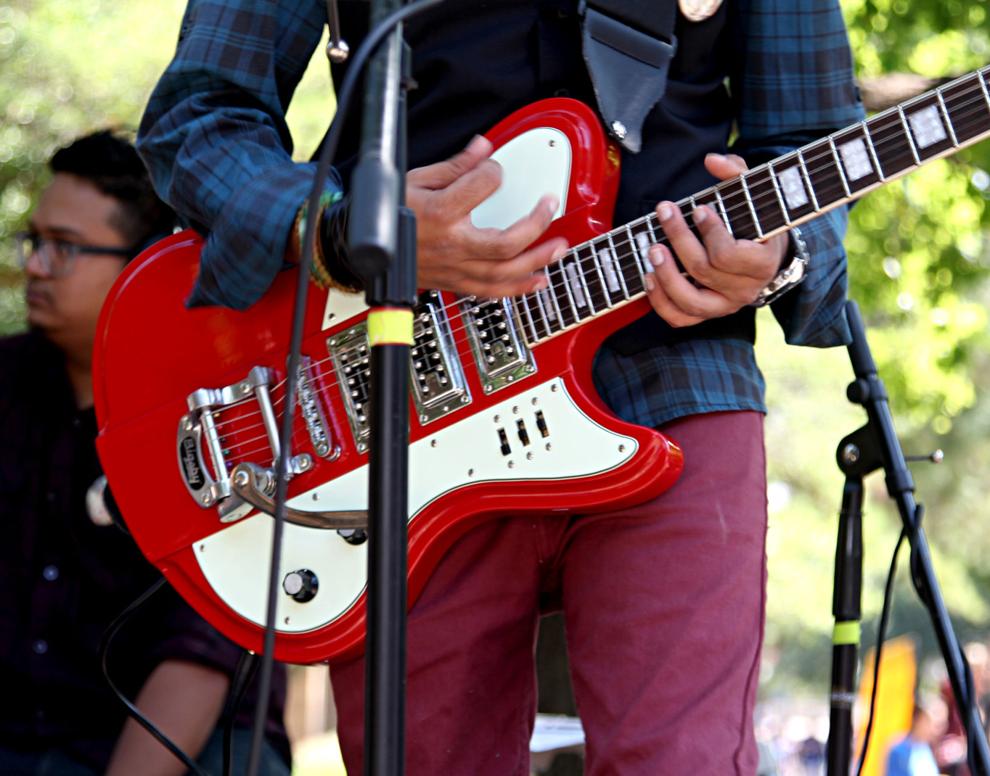 The name for the band came to Sitaula when he remembered growing up as a child.
"Back then, we would have house shorts made up of colors," Sitaula said. "I was always the skinny guy in the green. That's how the name came about."
Sitaula was a solo artist until he started playing live and needed a strong band behind him.
"With Naru, I've been playing for the past few years," Sitaula said. "Jason, believe it or not, I found through Craigslist. It worked out pretty well."
Sitaula said his influences are from '90s alternative rock bands and electronic music.
"I'm huge fan of Stone Temple Pilots, Guns N' Roses and Pendulum," Sitaula said. "Also I like stuff like Linkin Park, which has a fusion of rock and roll, electronic and also rap."
English senior Ricardo Garza said he hears the '90s influence in Skinny is Green's music.
"They have a different sound," Garza said. "They have an alternative rock sound almost reminiscent of maybe Oasis. Like, an alternative '90s sound."
Civil engineering freshman Demetrius Blakely said he likes the band's sound because it is chill and relaxing.
"It kind of reminds me of The Eagles," Blakely said. "It's nostalgic."
LIVE on #Periscope: Skinny Is Green is officially live! https://t.co/s0lwxHvXZv

— The Shorthorn (@UTAShorthorn) September 30, 2015
Sitaula grew up in Nepal and said the music scene over there was a little behind.
"We didn't get a lot of pop music during the present time," Sitaula said. "I feel like I'm still behind. I had lots of cousins who were into rock and roll from the '90s and '80s, which inspired me."
Their most recent album, Dreamers, is available for purchase on iTunes. 
@christianalexb