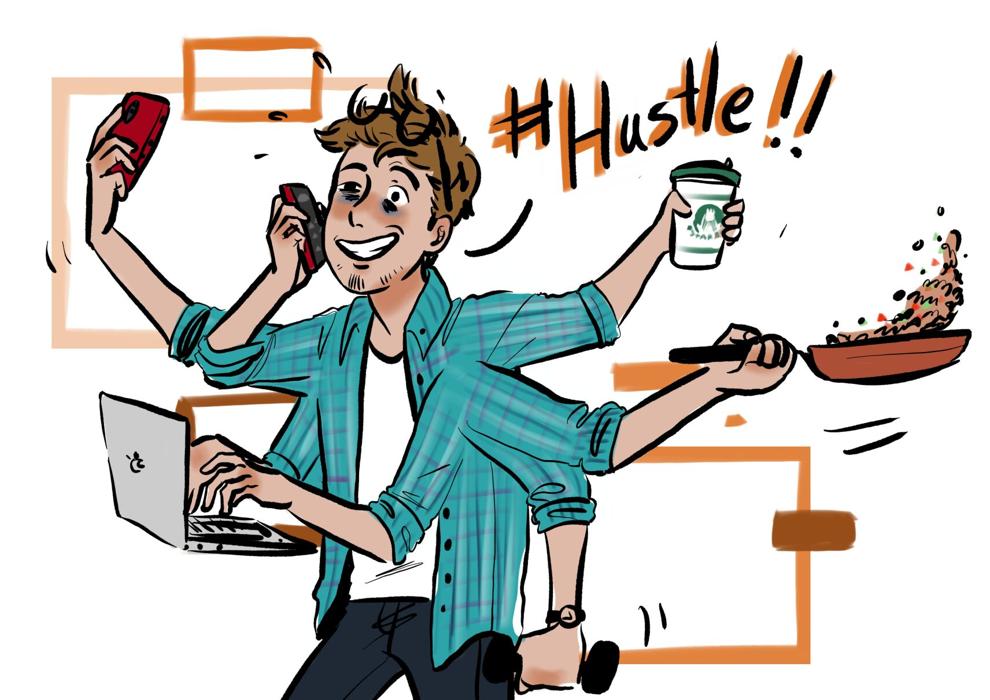 When architecture graduate student Anuja Pai graduated at the beginning of the pandemic, she said it was hard to find a job because the economy was bad. As a result, people like her had nothing on their to-do lists for a while, a stark contrast to the busy lives they were used to.
Pai said she and her peers were used to hustling, and it wasn't uncommon to spend all night at the architecture building. Many felt like their lives didn't have meaning without school or work, and it was terrifying.
According to Psychology Today, "hustle culture" is the social pressure to engage in unreasonable amounts of work and responsibilities. Those who lean into hustle culture usually work a lot and make sacrifices when it comes to things like sleep or personal relationships.
Political science senior Omar Lazcano said they associate hustle culture with "the grind." With the idea of hustle culture comes a vision of someone working extra hard to go above and beyond, to obtain goals that will set them apart from others.
Although hustle culture can provide a space for encouragement and celebrating victories, it can also damage its participants' emotional and physical health, Lazcano said.
Aimee Dunnam, psychiatric mental health nurse practitioner program director, said there are multiple ways to look at hustle culture.
It all depends on the temperament of each individual. While some people might react well to hustle culture, others may not, she said.
Some people like to verify progress and understand what they need to do next by putting everything down in front of themselves. But for others, that system can be overwhelming, Dunnam said.
Lazcano said they think hustle culture has gotten more popular because of social media. They often see posts that encourage people to work even harder to achieve things in spite of the pandemic.
Lazcano believes this stems from people not wanting to be perceived as lazy or incompetent, and through hustle culture, they can assure themselves they're working hard enough.
But Lazcano thinks hustle culture imposes a high standard for everyone despite different people having different measures of success.
For some people, success is getting a promotion or internship, but for others, success is just getting out of bed every day, they said.
Pai said it was challenging to be at home and feel like nothing was getting done, she said.
Hustle culture had become something integrated into the psyche of college students and adults in America, she said.
"I feel like a lot of people's identities are tied to what they can create or what they can sell," Pai said. "You know, what they can be marketable for."
As an architecture student, Pai said a lot of her work was done in the studio. When the pandemic hit, most students had to move out of their studio spaces. Because of this, it was hard for her to compartmentalize, she said.
All the time became possible hustle time, whereas before, the studio was where she was productive.
"Now I'm thinking, 'I have to be productive all the time because I'm at home all the time, and home is my workplace,'" Pai said.
Although hustle culture amid the pandemic has been difficult to deal with, Pai said she thinks there is a lot of power in looking inward to determine what we do for ourselves versus what we do for work and other people.
When feeling overwhelmed by hustle culture, Pai said to remember to give yourself grace. Learning how to be kinder and more compassionate toward oneself can help slow things down when hustle culture gets to be too much.
@aivylinaa