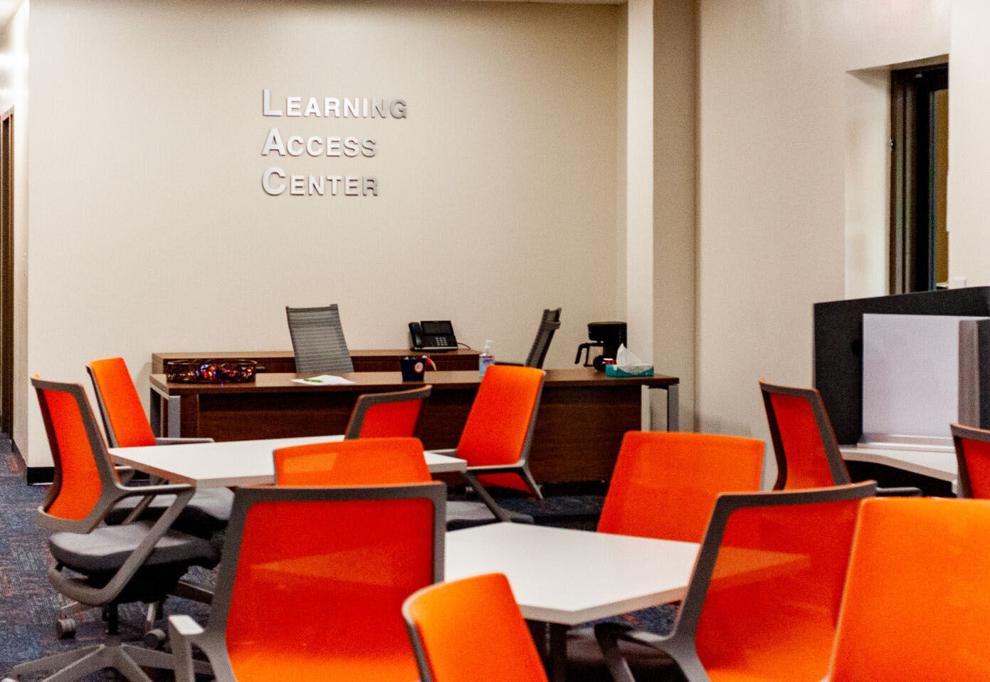 Nursing junior Valerie Johnson said she has bad anxiety. She doesn't like to be distracted at home. She also doesn't want to be around the large groups of people at the library. 
Johnson just wants a quiet, little cubicle where she can sit down, zone out and focus on nothing but her homework for hours. 
One day, she passed by the Student Access and Resource Center and inquired about its Learning Access Center program, which is having a soft launch in the recently-renovated Student Access and Resource Center located on the first floor of University Hall. The center guided her through the process of seeking accommodation, she said. 
The Learning Access Center is an assistance program open to students registered with the Student Access and Resource Center who are diagnosed with attention-deficit/hyperactivity disorder, a learning disability or autism spectrum disorder, said Heather Snow, associate vice president for Student Affairs and Dean of Students. 
The program will offer workshops on test-taking and note-taking strategies, study skills, group training and one-on-one support, Snow said. It aims to hire learning 
specialists to work with students and offer seminars and skills training, Snow said. The program has been in the making for a few years, with the idea initially submitted about three years ago and getting the funding last year. 
"While the center is open and functional, and the assistant director can provide support and services, I would anticipate, certainly before midterms, you will see the full rollout of every one of the components that we have to offer," she said. 
Students must register to receive the service, along with accommodations and other support through the program. That process includes a short intake form, followed by a meeting with a specialist to determine what services and accommodations the student might need. 
"I will say if the student is not registered with a disability, all they have to do is talk to their disability specialists to say, 'I really think I could benefit from this, and I would love the opportunity to utilize that service.' We will not turn anyone away if they walk in our door and want that support and service," Snow said. 
The space is friendly for both private consultations with a learning specialist and group development work. Students who face some of the same learning challenges can get together and provide tips, tricks and ideas that have worked for them, Snow said. 
"This will be our very first rollout of this program at UT Arlington, and one of just a handful in the nation that provide[s] this type of center and focused learning assistance for their students with disabilities," she said.  
Misty Hogg, Student Access and Resource Center assistant director, oversees the Learning Access Center. She said she helped found the creation of the program, drawing on her past and personal experience in education and neurodivergence.
Hogg said the next phase of the program's development will be hiring accessibility specialists to act as mentors who already have college life experience. The plan is to hire 15, each working with about five students. 
Snow said there are a few reasons why the Learning Access Center is coming into form, such as the office's renewed interest in expanding support after the hiring of Cynthia Lowery, Student Access and Resource Center director, continuing UTA's legacy of serving students with disabilities on campus. 
Watching how students handled online learning through the pandemic helped assess what areas students could use extra support in, she said. 
Until now, the Student Access and Resource Center relied primarily on one-on-one disability specialists to assist students with learning needs, she said. Now that they want to provide this expanded service, faculty will receive the specific training needed to run the program. 
Hogg said that one thing she specifically wants to render through the program is seminars on topics like building resumes and interviewing. 
"I know that we have those things already on campus, but these will be specifically designed for students that struggle a little bit differently and need more of that coaching," she said. 
Johnson said she thinks the seminars and services will be helpful for college students. 
"I feel like getting people to share their experiences and [show] us as college students that no matter where you are, no matter who you are, you can do this, it just takes putting in that work for it. I feel like that's really the most important thing that we really need right now," she said. 
@WolfIsaly