Thousands within the UTA community set off for spring break, not knowing their lives would change completely.
Routines evaporated. Education was upended. Living spaces vacated. All in a matter of days.
Risk society theory refers to the way society orients itself around the knowledge of risk, sociology professor Robert Kunovich said. 
"Basically, we live in a world that's full of risks," he said. "If you were to stop every morning when you get out of bed and think about all the things that could go wrong in your life, nobody would be able to get out of bed." 
However, Kunovich said our routines protect us from this thinking and put us in a "protective cocoon." The COVID-19 pandemic shattered those routines, and without them, we've been left vulnerable and uncertain about the future, he said. 
"Everybody's lives have been completely interrupted," he said. 
Since March, UTA has responded to COVID-19 by moving classes online, postponing commencement, canceling all on-campus events and vacating most residence halls. The new coronavirus has topped four million cases worldwide, with almost 300,000 deaths.
As the world adjusts to the pandemic with shelter-in-place orders, new health guidelines and more closures than you can count, communities everywhere struggle to find new routines.
As the dust settles, universities and their communities scramble to find what's next and students, faculty and administrators adjust to their new normal.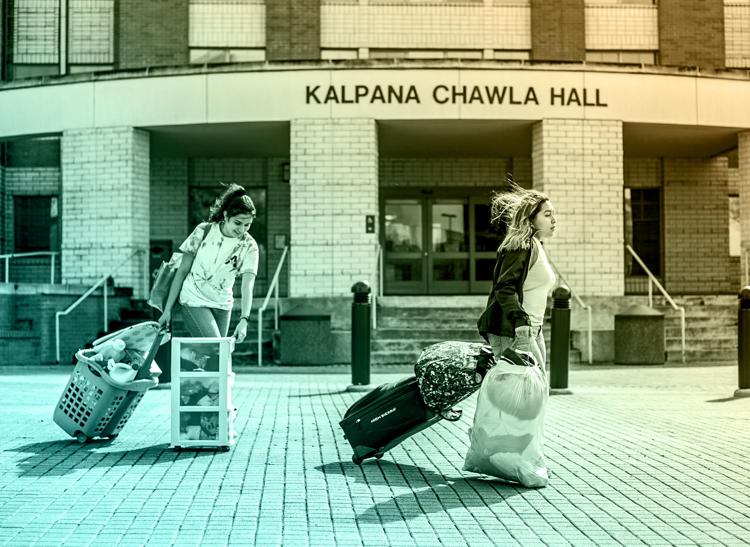 THE STUDENTS
Studio art sophomore Rebeca Compean is getting used to more than just online classes or being away from campus. After testing positive in March, she is still feeling the effects of COVID-19 on her body. 
She still has trouble walking for a long time and runs out of breath far quicker than normal — even when talking on the phone, her breathing became heavier.
Prior medical issues left Compean with a weakened immune system and a higher chance for complications. Still, when she first exhibited symptoms, she convinced herself it probably wasn't COVID-19. She thought she might've had the flu.
"I could barely walk; I felt so weak," she said. "My chest felt like it weighed a ton."
Her dad drove her to a health clinic in Dallas to be tested. Once her father told clinic staff she was being tested for COVID-19, the energy immediately changed.
"Even the nurses kind of look at you differently, like no one wants to be near you," Compean said. 
The nurse pushed a swab through her nose to the back of her throat. It hurt. They did it a few more times and told her results shouldn't take long.
Days passed, and she began to feel anxious. When she got her positive diagnosis, she burst into tears. In the days after, Compean said she began to feel more isolated than ever — even more than she does from social distancing. 
"Instead of concern, a lot of people were angry with me for being sick," she said. "I felt a lot of guilt. Once I cried because I felt like it was my fault; I felt like people in my family were going to get sick because of me." 
She called everyone she was in contact with recently to inform them of her diagnosis. Many of them wanted to know where she got it, and she didn't know what to tell them. She had no idea.
• • •
While some students are experiencing the effects of the virus firsthand, others are worried about what it could mean for their loved ones.
Nursing freshman Alyssa Cordero comes from a family of nurses. This is a fact that she's proud of, but now, one that also makes her fearful for their lives.
Because of the pandemic, both her parents, who work in two different health care facilities, have decided to practice social distancing even at home to avoid passing the disease to each other or to their children. Each member of the household is isolated to one room.
The hardest part for Cordero was a conversation she had with her mom about what to do if she or her father died. 
A few weeks prior, Cordero's mom heard of a family where both the parents died from COVID-19, leaving their children confused and lost. She wanted Cordero and her sister — a freshman in high school — to be prepared for the worst, going over the family assets and plans.
"It made me think about what I could do if this were to happen," she said. "Would I be able to tell my sister?" 
• • •
Journalism junior Kim'Breanna Whitaker faces some of the same struggles as her classmates: too many emails from her professors, trouble focusing on online classes and adjusting to a less-than-social lifestyle. But she's also experiencing the pandemic in a way unique to most.
She's seven months pregnant. 
After the virus began to spread in Texas, Whitaker expressed concerns for how it could affect her or her pregnancy. Now, she's very careful while trying to prepare her daughter's room.
Currently her husband would be allowed to be present during childbirth, but Whitaker's biggest fear is that the situation will worsen and that she'll have to give birth to her baby without him at her side. 
She and her husband were scheduled to see the baby's final sonogram together. But when she arrived, they told her she could not have any guests.
She tried to FaceTime him the screen results, but the screen was too far to show a clear picture. And the clinic required her to mute his call.
"I got to see our baby girl's face for the first time ever without him," she said. 
Going to doctor appointments without her husband is usually stress-inducing, Whitaker said. All she can think is, "What if something goes wrong?"
• • •
Without live instruction or even online lectures, biology freshman Emily Heald's days are spent mostly in pajamas. The structure of living on campus and having a strict class schedule are gone. What's left are days intertwined with schoolwork, video games, YouTube and late-night showers. 
Heald was camping near the Brazos River for spring break when UTA announced it would transition to online learning. She wouldn't fully realize the extent of the situation until she returned home and learned she'd have to move out of her dorm room at Vandergriff Hall.  
Although professors across colleges have taken measures to adjust curriculums and practice leniency, Heald has found the new system to be much more difficult to handle. 
"Now with it online, I feel like I'm having much more trouble keeping myself accountable for the work that I do and the quality of work that I do," she said. 
For her, just like many other students, lab classes have become challenging as well without group discussions or live instruction. 
A more unforeseen hurdle has been readjusting to the lack of freedom of living at home again. 
Pre-pandemic, Heald spent time with friends and in her dorm room. Even though her time living on campus was short-lived, readjusting has been tricky.  
Heald's quarantine home in Bedford is shared with five others, including her parents and brothers. More so than another semester online, Heald was worried about the possibility of having to stay at home this fall. 
"I'm concerned that I'm losing some of the individuality that I built while I was on campus, while I was beginning my life outside of my home," she said.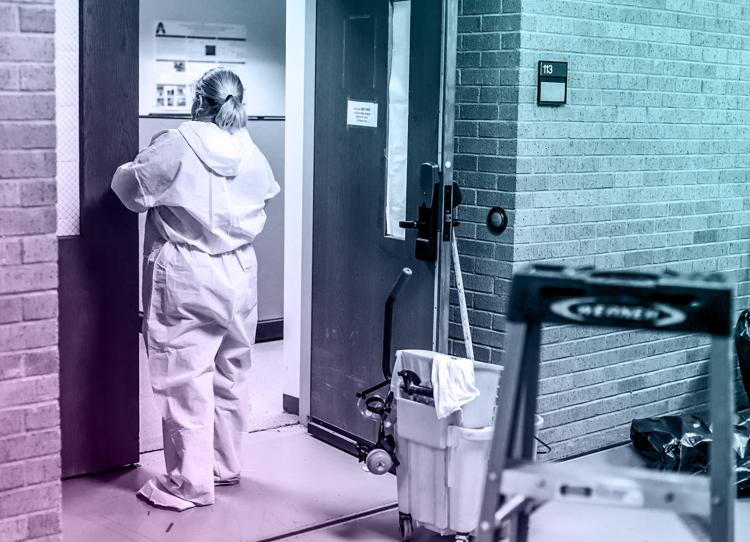 THE CAMPUS
If you were to walk on campus now, you might only see one or two students strolling the empty sidewalks. 
You might even start to recognize them — there are only a handful of students still on campus, doing research, taking online classes and settling into new routines. Some chose to stay in their on-campus apartments. Others had no choice. 
It seemed like a ghost town at first, said Reza Ghoddoosian, computer science doctoral student. It still can, but he's gotten used to the daily routine.
"I think all of us have adapted to this new life that just kind of become normal," he said. 
Ghoddoosian makes the short trek from the Heights on Pecan apartments to his lab on campus. The new rules dictate that only two people can be in the lab at a time, but it's not unusual for it to be just himself.
He felt very lonely at first, and that feeling can flare back up from time to time. But as an international student, he said there wasn't really an option to return home to Iran right now.
After spring break, the number of students living in residence halls dropped from 2,244 to 144. Over a quarter of students living in UTA apartments also chose to leave and end their leases.
Virtually all offices and on-campus resources are closed, with staff working remotely from their homes. For the few students left, only a single dining option remains available: carryout from The Market. 
The event calendar is empty, and classes will be held online through the summer.
The most activity comes from campus construction and maintenance, such as on the University Center's new entrance.
• • • 
For spring 2020 seniors, a commencement ceremony is still up in the air.
As a first-generation college student, public health senior Whitney Nguyen has looked forward to college graduation her whole life. 
"I think what really hurt me was that ceremony doesn't mean as much to me as it does for my parents," Nguyen said. "I thought I was going to be the first in the family to walk the stage." 
Now that the ceremony is postponed, she's unsure she'll ever attend.
"It doesn't discredit all the work that I've done," she said. "It's gonna show on my diploma that I made honors and stuff like that, but for them not to be there and not to see it — I feel like that really hurts." 
FACULTY AND STAFF
Students weren't the only ones surprised by the transition to online classes. Faculty and staff members had to make the jump to moving online as well.
The university used the extended spring break and the week after to train over 1,200 faculty members on how to transition to online teaching, said Pranesh Aswath, interim provost and vice president of Academic Affairs. 
"The most important challenge we had to face was to bring all the faculty who never taught online and train them in a period of two weeks," Aswath said.  
Staff members, too, had to adjust quickly to figure out how they could still do their jobs remotely.
"It was like a frantic sprint really for two weeks trying to get as much done as possible," said Michael Barera, university and labor archivist. 
Barera said it was a juggling act of figuring out new workflows, adapting to new tools and tying any loose ends for on-campus work.
"Since late March I've been working from home, and it took me a while to kind of settle into the rhythm," he said. "But for me personally, I really like it." 
Now Barera feels as productive or possibly more productive than before and is able to take time to cook or read.
• • • 
Brad McCorkle, architecture adjunct assistant professor, teaches a course where students collaborate to build a house that they designed. 
He said they were all on the construction site for a concrete pour in March when several phones buzzed with a notification from the university that spring break was extended. Later, they found out classes would be moved online.
"It was like a kick in the stomach," McCorkle said. "For two or three days after that, man, I was really down and bummed out about it." 
Now that the students returned home, McCorkle had to rework the course and turned over the labor to a contractor. He keeps his students updated with progress and holds chats to check in and make sure they're doing OK.
The hardest part for everyone would probably be the lack of face-to-face interaction, he said.
"You really become like a little family," he said. "You build this camaraderie that you lose a lot of by going online." 
• • • 
Architecture assistant professor Oswald Jenewein said he hopes UTA comes out of this experience stronger and uses it as a catalyst to use digital communication to its full potential.
"Nobody wanted this situation that we are in right now. But we all had to adjust," Jenewein said. 
In terms of his students, Jenewein said it was a fairly painless transition. The students were able to switch to online faster than the faculty, but both were done efficiently, he said.
"I do miss the personal interactions  — seeing people face to face, seeing all the students at the same time, not just through the small screens," he said. 
Because classes were moved online, Jenewein was able to return to his home country of Austria in early May. 
He took an Uber to the airport, expecting it to be relatively empty. However, he said it was much more crowded than he thought. 
His normally 14-hour flight became a 27-hour flight with two layovers, but the number of people that traveled with him surprised him the most. 
"The flight was packed," he said. "There were barely masks — I was lucky to have one." 
He now faces a seven-hour time difference, which makes his virtual meetings often run as late as midnight.
However, Jenewein thinks this situation has also had positive benefits, specifically in terms of digital innovation, and that it should shape the future of how UTA teaches.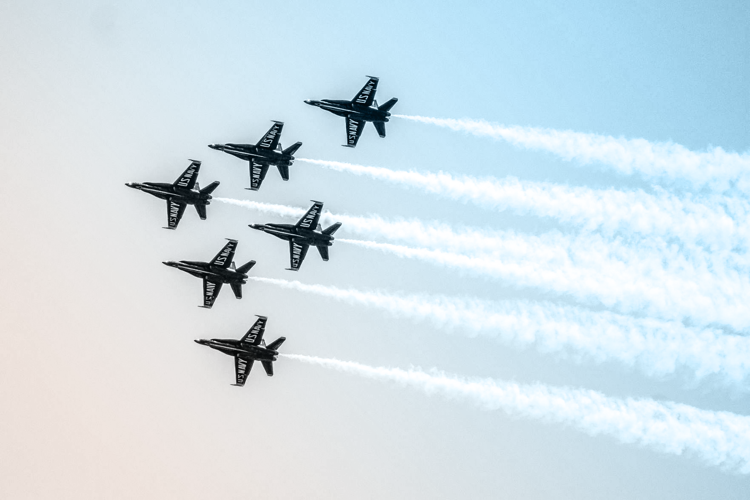 THE FUTURE
It's been about two months since the online transition was announced, and as the state begins to reopen, the UT System looks to the fall with hopes of open campuses. 
The administration knows they want students to return to campus, but it's unclear what exactly that looks like, university spokesperson Joe Carpenter said.
"We know that we want to, to the degree that we can, be back on campus," Carpenter said. 
Right now, the university is looking at a blend of in-person and online courses, as well as a variety of other measures, he said.
All around the university, new processes discovered through necessity are revealing efficient and accessible ways of getting things done.
John Hillas, student organizations assistant director, said his office used to be very "paper heavy," but due to the pandemic it had to transition to digital. He now hopes to make this change permanent.
Interdisciplinary studies adviser Rebekah Chojnacki said video chat advising appointments have worked well and could be a good future option in addition to in-person meetings. 
Kunovich said he hopes to adopt some of the video recording techniques he's employing now in his regular classes. Jenewein wants to continue using screen sharing in his face-to-face studios to provide live red-line critiques. 
Jenewein said the pandemic opens the opportunity for innovation and for young people to step up into leadership positions. 
It's also an opportunity to advance the way people teach, the way people work and the way people live.
"What kind of world are we creating in this global pandemic? What do we learn from it?" Jenewein asked. "Now is the time to move forward with a kind of new thinking with some fresh energy and fresh ideas to make sure that we can improve things in the future."
Shorthorn staff members Megan Cardona, Shay Cohen and Edward Medeles contributed to this story.
@reeseoxner