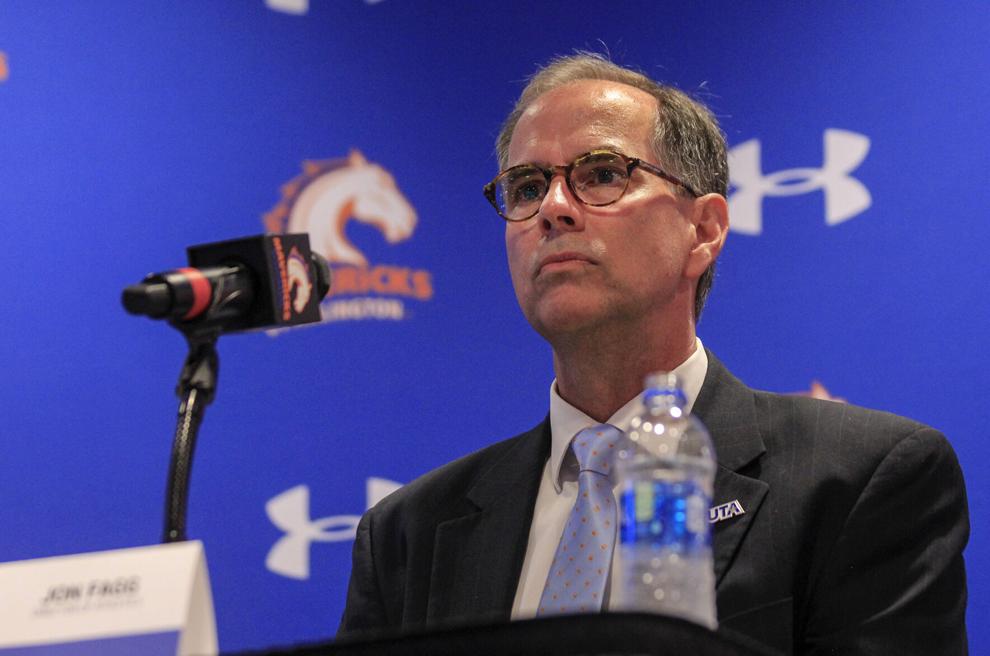 UTA introduced Jon Fagg as the incoming Athletics director during a press conference Monday at the College Park Center.
During his introduction, Fagg, who will officially begin his tenure Aug. 1, discussed his priorities for the Athletics program through increasing name, image and likeness opportunities, student engagement with athletics and improving athletes' academic performance.
Fagg will be responsible for all aspects of the Athletics department, from fundraising, strategic planning and budgeting to NCAA compliance, personal management and sports management. 
He is UTA Division I's seventh Athletics director, and it's his first time holding the position at any university.
Fagg has been at the University of Arkansas since 2008, according to previous Shorthorn reporting. He has assisted the vice chancellor and Athletics director in the department's daily administration and provided oversight of its NCAA compliance program; academic support; student-athlete development; and name, image and likeness units.
"We need everyone here committed to making Maverick Athletics the best it can possibly be, [and] I'm challenging each of us here today to be loud, proud fans and ambassadors of our program," he said.
Name, image and likeness opportunities are a space UTA can take advantage of moving forward.
In June 2021, the NCAA adopted a policy allowing athletes to benefit from their name, image and likeness, according to previous Shorthorn reporting. The University of Arkansas started the program in March 2020, Fagg said.
Arkansas also collaborated with its business school and Office of Entrepreneurship and Innovation to teach student-athletes entrepreneurial skills and how to find opportunities.
"It does cost effort and time, and we'll spend that and hopefully offer some great opportunities for our student-athletes," Fagg said.
During his tenure at Arkansas, the graduation rate among athletes rose 15%, and athletes earned at least a 3.0 GPA for 25 consecutive semesters, according to previous Shorthorn reporting.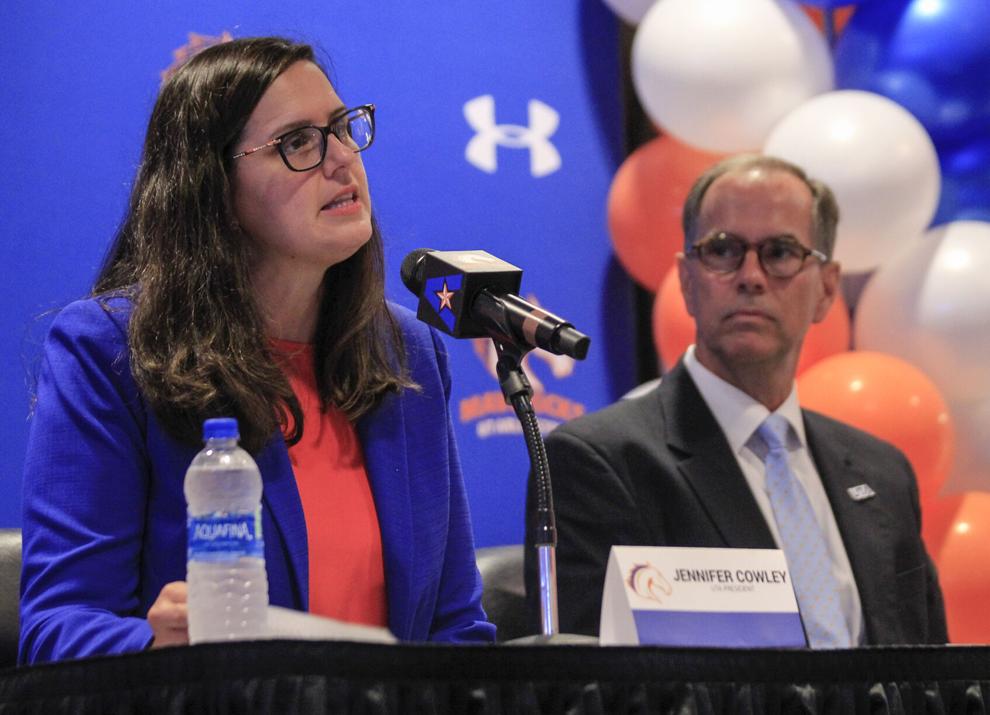 President Jennifer Cowley was excited when Fagg brought up bridging academics and athletics during his interview for the position, she said in an interview after the press conference.
She's excited to work with specific departments at the university to further the academic and branding potential of UTA's student-athletes, Cowley said.
Fagg said he is looking forward to integrating student athletics into student life for non-athletes at UTA and getting student athletes more involved on campus to make it a personal interest for students.
He suggested the idea of scheduling games earlier in the day to try and get more students to attend games.
"Jon wants to make it a very rowdy, fun and vibrant environment," Cowley said. "We're gonna up the fun level."
As Fagg transitions to UTA, he'll be leading the university's transition into the Western Athletic Conference.
"Our membership makes the WAC even more Texas-centric while also allowing us to expand our reach to the West Coast," Cowley said of the conference change.
She said Fagg oversaw nearly every aspect of the Arkansas Razorback program, from academic support to student athlete development and the NCAA compliance, name, image likeness.
"We're going to be an integral part of the campus community. It's about making memories. That's what I said on the day I was hired," Fagg said. "Why do we love athletics? Because we make memories around live sporting events and being in the building and at the field."
Current Athletics director Jim Baker, who announced his retirement Feb. 8, will be helping Fagg move into the position until his contract expires on Sept. 1, according to previous Shorthorn reporting.
Fagg said they need to educate, provide an athletic experience and then collaborate with campus to provide career opportunities to our student-athletes.
"We want to get an A in a class we didn't think we could get an A in. We want to run faster, jump higher and throw farther, we want to build a building we didn't think we could get built," Fagg said. "We want to win something we've never won. We want to do something we've never done. It's only impossible until it's possible."
@isaacappelt @D_Tineo4