UTA Campus Recreation is wrapping up their spring semester of team events in what is widely considered a successful season.
Recreational activities in the fall differed from those offered in the spring. Fall activities focused on individual sports, while spring events featured group sports.
Limiting fall activities to individual sports was intended to reduce the spread of COVID-19.
Campus Recreation director Dax Kuykendall played a major role in the decision to reopen team events. His mission is to make things feel normal again.
"Chances for people to do things that feel somewhat normal, or things that we know people value and like to do, that's been really important for us," Kuykendall said. "Our goal is to start finding ways to participate that, you know, feels like it used to feel."
A point of emphasis when deciding whether to bring back team activities was whether the trend of COVID-19 cases was moving in the right direction. Kuykendall said he wanted to see interest and reactions from students. Campus Recreation planned to offer the option before the spring semester ended.
"There has been a progression towards having more activities available on campus, and so we put together a protocol and a plan for having those activities," Kuykendall said.
After exclusively offering individual events in the fall, team events like 4v4 flag football, 3v3 basketball, 2v2 sand volleyball and 5v5 modified indoor soccer returned during the spring semester.
Kuykendall was unsure what the registration turnout for intramural sports would be but was pleasantly surprised by the results.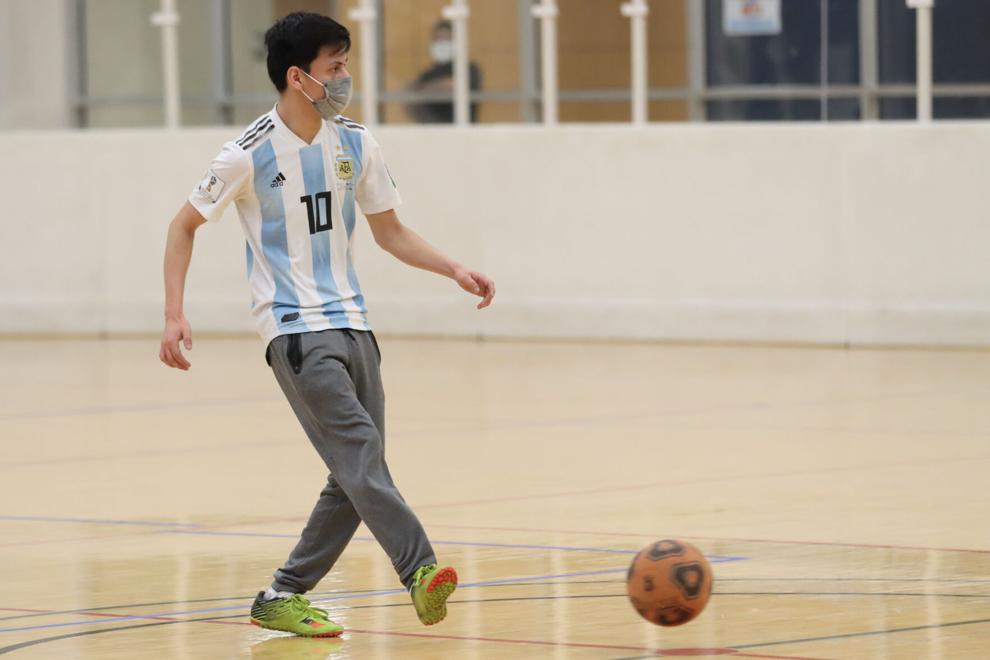 Information systems junior Sid Ramani was surprised by the turnout as well.
Ramani has been working with Campus Recreation for two and a half years and has had to adjust to some of the new changes of being an official.
"In the fall semester and before we started team sports this semester, it was very down, the spirit was just kind of not there," Ramani said. "It's great to see that there's so many people who are willing to come out and play."
He said once Gov. Greg Abbott lifted the mask mandate March 2, it opened doors to resume sports with minimal contact.
One of the biggest changes for Ramani was the switch from a conventional whistle to an electronic one. He said using an electronic whistle has been strange, but it's working well.
When it comes to the new employees getting used to the precautions like handling large crowds and managing conflicts, Ramani said he believes they are catching on quickly.
"I feel good about it," Ramani said. "It's definitely a learning curve to it, but I think they're adjusting to it fairly well."
Additional precautions include bringing your own footballs for flag football and sanitizing basketballs between games.
With team events, safety becomes the top priority for the staff, marketing senior Steven Peralez said.
"As long as we have players wearing masks, we're doing our best to try and follow COVID-19 protocols," Peralez said.
He is an experienced official who has worked for UTA Campus Recreation for two years and is still learning and teaching the new precautions to fellow co-workers.
"Before the semester began, we had to do a specific COVID-19 return to campus training," he said. "That was very helpful for us to let us know, like 'Hey, if you want to work here, these are the rules you have to follow.'"
Even with the struggles of consistently wearing masks, Peralez said he is glad to be working with his fellow co-workers again.
"We're glad to be here out of our house or dorm or apartment," he said. "They're a good work family to have, and I love being able to interact with them in person. I've missed that."
Nursing freshman Alex Gonzalez plays recreation league football and futsal, a form of indoor soccer, at UTA with the Latin American Student Organization, which he's a part of.
He said playing intramural sports is a great way to meet new people and socialize, especially as a first-year student.
Another reason Gonzalez decided to join intramural sports was that he grew up playing sports with his family. He said once he got to UTA and found the opportunity to play, he jumped on it.
Gonzalez said he understands why the rules and regulations are in place and believes it's necessary to have these precautions because there is still a pandemic going on. Like Ramani, Gonzalez said the recreation staff is doing a good job at following the rules and procedures.
With their success in handling events and rules and regulations this semester, the potential for expanding team events in the nearby future is bright, Kuykendall said.
"This is a chance to see how it works and how it doesn't," he said. "And know that the fall semester participation should be higher, even if it's modified versions of sports we're offering, just based on increasing activity on campus."
Kuykendall said Campus Recreation aims to expand opportunities for participation and make intramurals more widely available while also being cautiously optimistic.
With the spring semester coming to an end, intramural sports will wrap up with the playoffs beginning April 19 and concluding April 27.
@D_Tineo4