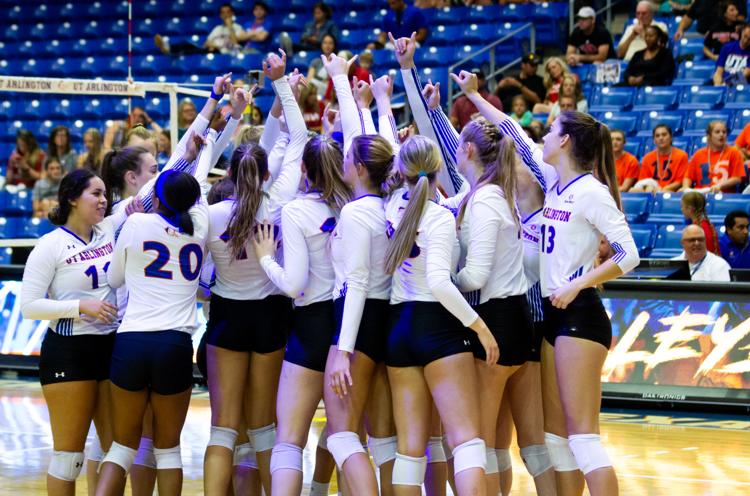 The volleyball team (6-3) will host the 2019 Maverick Invitational beginning Friday at College Park Center.
UTA begins play at 6:30 p.m. Friday against Chicago State University. On Saturday, the Mavericks will play a doubleheader, starting with a match against Prairie View A&M University at 1:30 p.m. then a face-off with Stephen F. Austin State University at 6:30 p.m.
The Mavericks are coming off of a weekend at Washington State University where they competed in the Cougar Challenge. There, they split play the first day, sweeping Liberty University before being swept by Washington State.
UTA finished on a high note, coming back from two sets down to defeat Idaho State University 3-2 in another comeback showing.
The Chicago State Cougars (4-7) competed in the Valley Forge Sports Invitational at the University of Pennsylvania over the weekend. There, the Cougars won their first match before dropping their last two contests.
Prairie View A&M (0-13) comes into the tournament on a losing streak that dates back to last season, where it 7-25 overall. The Panthers dropped two non-conference matches to McNeese State University and Northwestern State University heading into this weekend.
Prior to that, Prairie View A&M competed at the Abilene Christian Wildcat Classic, losing two five-set matches.
UTA's final opponent, Stephen F. Austin (9-1), heads into the tournament following a 2-1 showing at A-State Invitational in Arkansas. The Ladyjacks are favorites to three-peat as winners of the Southland Conference, with a pair of seniors, middle blocker Danae Daron and setter Ann Hollas, named to the 2019 Preseason All-Southland Conference First Team.
@_julio_vega