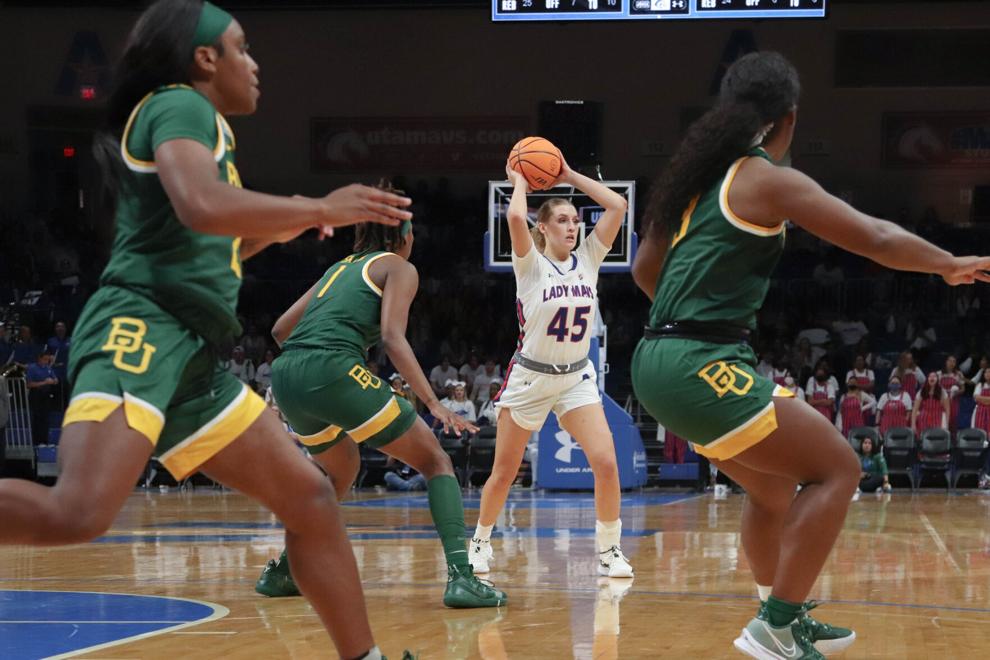 The women's basketball team (3-1) won their second overtime game of the week, defeating the University of North Texas, 75-74, at the Super Pit in Denton, Texas.
Senior guard De'Sha Benjamin recorded a career-high 20 points on 7-14 shooting from the field. She made four of the team's eight 3-pointers and added three assists.
Junior forward Starr Jacobs contributed 19 points, seven rebounds and three assists against the Mean Green. This was her fourth straight game scoring 14 or more points.
After falling behind in the first quarter 20-14, the Lady Mavericks responded and went into the halftime break trailing 30-29.
UTA was outscored in the third quarter 22-20, but shot 66.7% from the field and connected on four 3-pointers.
North Texas led by five early in the fourth quarter, but UTA scored six straight to get the upper hand, 55-54. The lead changed hands four times, but both teams were even at 68 as time expired.
After being fouled during the last second of overtime, senior guard Claire Chastain went to the free throw line for two shots and an opportunity to take the lead. She missed the first but converted on the second, and the UTA defense held on for the victory.
The Lady Mavericks limited North Texas to 25% shooting from the field in overtime, making two of their eight attempts.
The score was tied 11 times, and the lead changed hands 14 times.
The Lady Mavericks will travel to Las Vegas for the University of Nevada, Las Vegas Thanksgiving Classic. UTA will play the University of Nevada, Las Vegas at 2 p.m. on Saturday, followed by the University of Missouri-Kansas City at 4:30 p.m. on Sunday.
@D_Tineo4