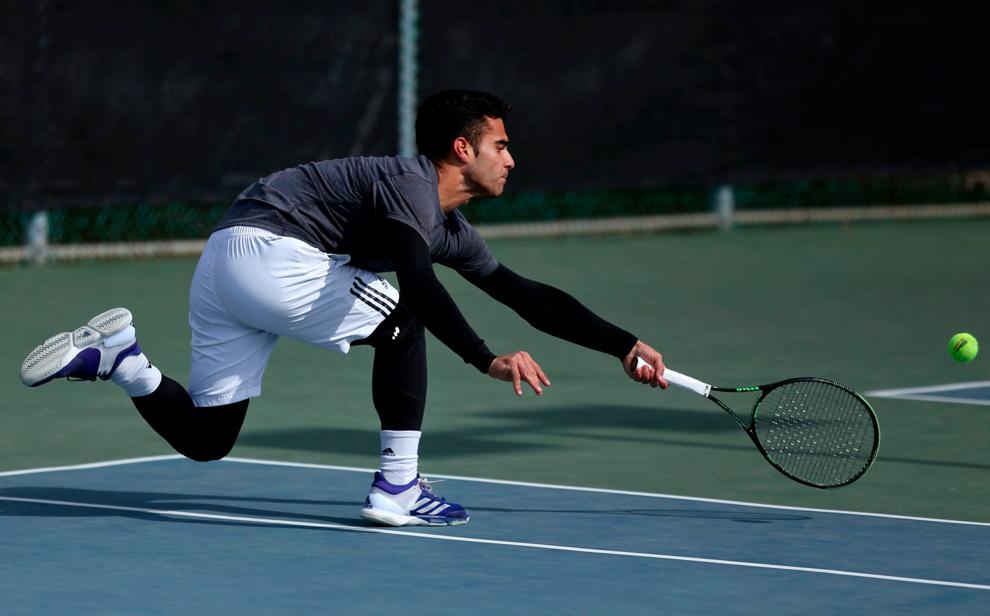 Tennis is more than players with rackets, sparring across a net through a tennis ball.
In the heat of a battled set or game, UTA's tennis players must find the strength of mind to dig out a result.
Head coach Diego Benitez said he wants his athletes to play without a fear factor and to have an inner motivation to fight.
"They have to have the courage and be brave enough to go out there in the matches," he said.
On match day, sophomore Lucia Natal prepares by routinely sitting on the right side of her bench with her towels and racket ready by her side.
"20% is the game, and 80% is your mind," she said.
Senior Guanarteme Nuez said his habit is to quickly sprint from the bench to the line to get ready to serve.
"That sprint makes me realize that it's game time," he said.
The ball travels from the pocket to the weak hand as it's about to be served. Natal bounces it five times before her initial serve. Nuez bounces it thrice.
The moment leading up to the serve, Nuez said his mind goes blank. Any doubt in his abilities will lead to a mistake.
As the ball is tossed up, the dominant hand swings up and arches behind the back. As a leftie, Natal said her serves and returns give her an advantage over right-handers because they aren't used to facing left-handed players.
Natal said the serve is a tennis player's primary weapon. Nuez, also left-handed, said he holds nothing back in his first serve.
As the ball strums off the strings, it sends a shockwave through the frame and into the hand. Rubber dampeners can absorb this, making Natal feel in control of the vibration.
"Whenever I hit the ball good, it's like freedom," Natal said.
Nuez said he fidgets with the strings of his racket after each point, won or lost, helping him focus for the upcoming rally.
If he's winning, he'll stick to his game plan. But if he's losing, he knows there will be a chance to come back.
Tennis players need to have a winning mindset, Nuez said. He's the type of athlete to look for answers when things go wrong for him in order to improve in the next match.
The day right after a lost match, he's back on the court, working out the kinks.
For him, it's a privilege to step out on to the court and be competitive.
Benitez said he's content if his players have a winning mentality and give elite-level effort all the time.
"If they feel that there was something 1% that they could have done better, whether it was going to the tennis courts and practice their serves instead of staying at home and watch a Netflix series, then they should feel bad with the whole team," he said.
@_julio_vega